Background: The shape of the lower face is defined primarily by the size and dimensions of the lower jaw. While a strong or more defined lower jaw shape has always been desired by men, it has also taken on more significance in women with contemporary aesthetic facial standards. The well defined female jaw shape can be seen today in models, actresses and many other celebrities.
The difference between a distinct male and female jawline is really a function of size in most cases. They share similarities of a linear smooth shape from angle to angle and a visible jaw angle shape. The female chin is less square and more tapered and the jaw angle has less lateral flare. But a visible uninterrupted jawline is the hallmark of a defined lower face in a female. It doesn't have to be big but it has to be defined.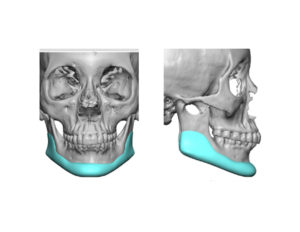 Case Study: This 35 year-old female wanted a better defined lower jawline. She had been receiving injectable fillers for a chin augmentation effect. but wanted a permanent result that improved the entire jawline. From a 3D CT scan of her a custom jawline implant was designed providing 7mms of horizontal chin projection with 3mms of vertical length and 7mms of jaw angle width with 5mms of vertical length.
Under general anesthesia the jawline implant was placed through three intraoral incisions. (one anterior and two posterior) The front and back jawline pockets were connected by a subperiosteal tunnel under the mental nerves exits on each side.


Her six months after surgery results showed an improved jawline shape that had better jaw angle definition and a linear jawline shape that came together into a tapered chin. One of the key features to her improved jawline shape was the increase on overall vertical length.
Most female jawline implants would be considered more modest in size in comparison to many men. This is, of course, due at least to a body size difference. But it is also relevant to overall implant size compared to that of the jaw size.
Highlights:
Total jawline augmentation, from angle to angle, requires a custom jawline implant.
A linear shape to the jawline requires a single piece implant.
Female jawline augmentation is more about shape and definition than it is about size of the implant.
Dr. Barry Eppley
Indianapolis, Indiana