Background: Reconstruction of the forehead is very different than aesthetic forehead augmentation. By definition reconstruction is required when a portion of the bony forehead has sustained a full-thickness bone loss. This most commonly occurs due to either trauma or the loss of a craniotomy flap after intracranial tumor surgery.
When rebuilding the forehead that has sustained bone loss, the most common method today is to use a 3D implant. From a 3D CT scan an implant can be designed and fabricated out of various polymeric materials. The precision fit, smoothness of the outer contour and the shortened operative times makes a custom forehead reconstructive implant usually preferred over an autologous bony reconstruction.
Such synthetic forehead reconstructions, however, may be done with good vascularity and thickness of the overlying soft tissues. If the patient has had prior irradiarion or been exposed to multiple reoperative surgeries, the soft tissue quality must be changed rpior to any implant placement. In addition, no portion of the implant should encroach on the frontal sinus cavity space or should have a prior frontal sinus obliteration. In essence forehead bone implants work well when the tissues around them can support them and be resistant to infection.


Case Study: This 55 year-old female had a large central bony defect from multiple intracranial surgeries for recurrent gliomas. She lost her frontal craniotomy bone flap from an infection coming from the frontal sinus/nose several surgeries ago. She ultimately had a vascularized ALT fascial flap placed to cover the dura which was secondarily augmented above it by fat injections due to the thinness of the forehead skin. While much of the injected fat graft was lost by volume, some survived and its effects on the soft tissues further improved the quality of the forehead skin.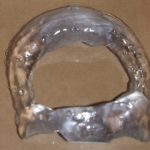 Her large forehead bony defect could be appreciated in a model made of it. A custom forehead reconstructive implant made of PEEK (polyetheretherketone) polymer was finally placed to create a permanent forehead contour restoration. At the time of its placement areas of fat globules could see on top of the ALT fascia over the dura as well as on the underside of the forehead skin. The implant had a perfect fit and was secured with small plates and screws.
3D forehead reconstruction with a computer generated implant sounds high-tech, and it is, but failure will ensue if the soft tissue around it is not of good quality.  The quality of the tissue bed into which the implant will lie can not be improved any form of computer technology. The surgeon must ensure that the tissues can tolerate a synthetic bony implant and all sources of infection are resolved before a custom forehead reconstructive implant is placed.
Highlights:
1) Forehead reconstruction with any form of an implant requires well vascularized and adequately thick overlying soft tissues
2) Restoring forehead tissue thickness can be done using either fat injections or a vascularized free tissue transfer.
3) A custom forehead reconstructive implant made of PEKK material can be placed after the forehead has had its soft tissue quality improved.
Dr. Barry Eppley
Indianapolis, Indiana