Background: The infraorbital rim is the lower eye socket bone that accounts for the bottom half of the bone that encircles the globe. It is formed by the union of the zygomatic bone laterally and the maxillary bone medially. Between the two bones is a suture line that may or may be present in adults. The location of this inferior orbital rim suture line lies just above the infraorbital nerve foramen.
Augmenting the infraorbital rim can be done in several ways depending upon what one is trying to achieve. The rim can be augmented on its anterior edge to give greater horizontal projection. It can also be augmented vertically to raise up the level of the bony rim for increased lower eyelid support. Or both horizontal and vertical infraorbital rim augmentation can be done if needed.
The only effective method of infraorbital rim augmentation is with implants. One type of infraorbital implant is that of tear trough implants. Designed originally to fill in the classic soft tissue indentation along the medial half of the bony rim, they can be used to augment the entire anterior rim across its entire length. But there are no preformed implants that are actually designed to sit along the rim to built it up vertically.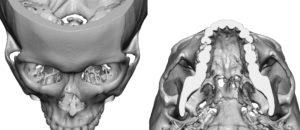 Case Study: This 24 year-old female had an uncommon history of having had bilateral infraorbital rim fractures during birth due to a forcep delivery. She never had any fracture repair surgery as could have been predicted as an infant. Now as an adult she had a palpable stepff along the infraorbital rim at the old fracture site at the suture line. (this was undoubtably an original bend in the rim at the location of the suture line from the forceps) Her 3D CT scan shows the lateral orbital rim displacement.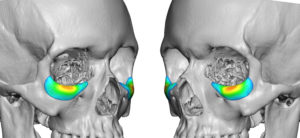 Custom infraorbital rim implants were fabricated to create a more elevated lower rim out to and around the lateral orbital rim to create a more natural contour.
Under general anesthesia the custom infraorbital rim implants were placed and secured through a lower blepharoplasty incision.
Recreating the height of the infraorbital rim, or at any location of the orbital rim, requires a custom implant approach. Getting the vertical dimension of the orbital rim can be done very effectively or securely with any other type of standard implant design.
Highlights:
There is no true preformed infraorbital rim implants that actually sir or cup the rim itself.
Custom infraorbital rim implants are design to sit along the rim and increase its vertical height.
An infraorbital rim fracture can displace the normal smooth and horizontal shape of the lower bony rim.
Dr. Barry Eppley
Indianapolis, Indiana