Background: Most men that seek chin augmentation by an implanted device are satisfied with rounded anatomic implant shapes. With a large variety of such implant shapes and size from which to choose, patient satisfaction can be high. But there is a subset of men that seek a more square chin augmentation result. For these patients square chin implants have been developed and used for almost twenty years.
Square chin implants are available in two basic styles that are separated by the square widths that the implants provide. One is 45mm (style 1) while the other is 55mms. (style 2) With horizontal projections up to 9mms, this will satisfy most men seeking a more square and stronger looking chin.
But more than half of the men seeking square chin augmentation will not be satisfied by standard implant dimensions in my experience. Either the degree of squareness is too small or the amount of horizontal projection available is inadequate. then there is always the issue of whether more vertical lengthening is needed as well. Getting a good 3D square chin effect may require a custom design.
Case Study: This male wanted chin augmentation that provided increased horizontal projection as well as some vertical lengthening. This is makes for an augmentation effect that extends down from the chin at a 45 degree angle. In addition he wanted a strong square chin look which fit his more overall broader facial shape.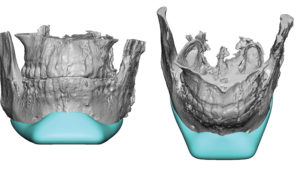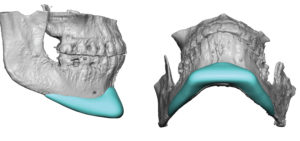 A custom square chin implant was designed that had 52mm of width, 7mm of horizontal projection and 5mm of vertical lengthening. This also required longer wings of theat went back along the sides and inferior border of the jaw to the anterior edge of the masseter muscle.


Under general anesthesia the custom square chin implant was placed through a small submental incision that was less than half the width of the front edge of the implant. With a chin implant that adds considerable volume to the edge of the chin it is important to make the incision far enough back under the chin ti allow for some soft tissue roll up.
Highlights:
1) Standard square chin implants will satisfy most male patient's chin reshaping needs.
2) A custom square chin implant is needed when the width and horizontal projection of the desired chin augmentation exceeds what standard styles can create.
3) It is important with larger square chin implants that there is adequate soft tissue chin pad for coverage.
Dr. Barry Eppley
Indianapolis, Indiana