Background: Contour deformities in the temporal region can be caused by either bone or muscle deficiencies. They often develop from prior surgeries such as craniotomies for tumors and infantile cranial vault surgeries for craniosynostoses. Elevating the temporalis  muscle at any age often results in muscle retraction and/or muscle atrophy. Even though the surgeon may resuspend the temporalis muscle at the end of the operation some degree of temporal contour deformity often still occurs.
Recontouring of many temporal deficiencies can be done by either fat injections or implants. Fat injections have their merit but they can be unpredictable in terms of both survival and contour shape. Implants of various materials have been used for decades for many forms of skull contouring. While many cranioplasty materials have been used in the temporal region, they have less than ideal properties because they are intended for bone contouring not that of muscle augmentation.
The temporal region is comprised of a thick layer of muscle in its anterior region beside the eye. When the muscle retracts or atrophies a pronounced indentation will occur. Filling in the indentation with a satisfactory aesthetic result can be difficult as this is a soft skull area and not a hard one.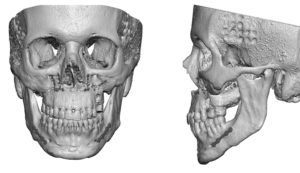 Case Study: This 36 year-old male wanted to improve the appearance and feel of his tenporal regions. He had a history of a congenital skull deformity which underwent early surgery as an infant. As an adult the resultant temporal hollowing was treated by unknown temporal implants which he did not like because they were very hard and had visible irregularities and edges. A 3D CT scan showed multiple regular circular indentations in the upper temporal region which was consistent with Medpor style temporal implants.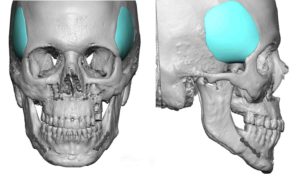 New custom temporal implants were designed from the 3D CT scan by initially adding on the missing bone since the the scan cut off the upper temporal bone.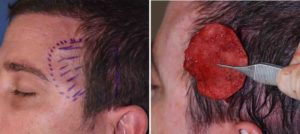 Under general anesthesia the temporal region was approached using his existing incisions from prior surgeries. The existing Medpor implants were removed in their entirety. Their underside revealed the multiple pegs of material for which they are recognized. The new custom temporal implants were put in as replacements with some trimming of its bottom thicker edge. Multiple 3mm perfusion holes were placed through the implants prior to their placement.
Highlights:
1) Temporal augmentation can be done using either standard or custom temporal implants.
2) Medpor temporal implants can be hard to shape and avoid palpable or visible edges.
3) Custom temporal implants are made from a 3D CT scan whose design can be based on how to improve the failures of indwelling temporal implant materials.
Dr. Barry Eppley
Indianapolis, Indiana