Background:  Breast augmentation is the most common as well as recognized body contouring operation. Performed through the placement of an implant, its after surgery volume retention is assured. Its downside is that the use of a gel or saline-filled device makes it susceptible to numerous long-term implant related issues and further surgeries.
Fat injection breast augmentation (FIBA) is an appealing alternative to the use of implants in an elective aesthetic procedure. Since the breasts are composed of fibrofatty tissue, adding fat would be a natural and well accepted augmentation tissue. In addition, some patients do have excess fat they would like to get shed and putting in the breasts at the same time is more than a logical exchange.
But many younger women with small breasts have thin body frames. There can be a correlation between breast size and body habitus in some women. Even in women with some visible fat to harvest, it is important to remember the 'halving principle' in injectable fat grafting. This goes as follows…half of the harvested liposuction aspirate is removed by concentration, the concentrated fat is split or halved between the two breasts and half of the injected fat will be resorbed. (or 50% volume retention)
Understanding this principle helps patients to determine if fat injections are a good choice for their breast augmentation as well as to have realistic expectations about the volume increase outcome.
Case Study: This 20 year-old female wanted to have breast augmentation by fat injections. She did have some modest fat to harvest from her abdomen and flanks and was well informed that this approach to her breast augmentation would result in a very modest change at best.

Under general anesthesia she had 845cc of liposuction aspirate harvested from her abdomen and flanks. The aspirate was concentrated down to 430cc of injectable material which was used to inject 215cc into each breast.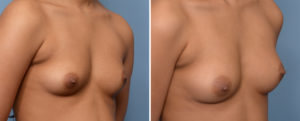 Her one year after surgery results showed a visible augmentation benefit that was about a 1/2 cup size increase. She eventually decided to get breast implants for a much larger result.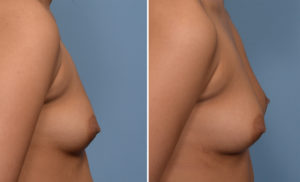 Fat injection breast augmentation is a very appealing alternative to implants but patient selection is critical. Until the science of fat grafting is better understood and fat cell survival can be increased, its use in breast augmentation will remain limited to those patients seek very modest breast size increases.
Highlights:
1) The success of fat injection breast augmentation depends on how much fat one has to harvest and how much survives after being injected.
2) Enlarging the breasts by injectable fat grafting usually result in modest change in the range of a 1/2 cup bra size or so.
3) Potential patients need to consider the 'halving principle' when considering augmentation by injectable fat grafting.
Dr. Barry Eppley
Indianapolis, Indiana