Background: The shape of the jawline has taken on great aesthetic importance in contemporary society. This is not just for men but for females as well. But the desired shape of the female jawline is different from that of men. It is desirous to be more tapered from back to front and have more of a triangular or V-shape. While some women have this jaw shape naturally, most do not.
The well known V-line jaw surgery comes from Asia where it is commonly done. The Asian face often has a bigger lower jaw with larger jaw angles as part of an overall wider and flatter facial shape. Dramatic reductions in the jawline through amputation of the jaw angles and jawline combined with a T-shaped chin reduction creates the V-line effect.
But in many Caucasian faces such reductions of the jaw will not produce the same reshaping effect or can not be done with a smaller jaw size. The opposite approach, augmentation of the jawline, may be needed to create a V-line effect.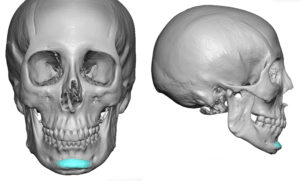 Case Study: This 26 year-old female wanted to have a more tapered jawline look. She had a prior chin implant placed but it did not create the desired effect. Her 3D CT scan showed a chin implant sitting high on the chin bone  way above the edge of the chin bone. She also had high jaw angles.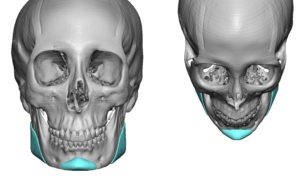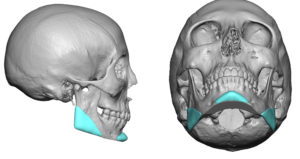 Her 3D CT scan was used to make vertical lengthening jaw angle implants (with minimal width) and a v-shaped chin implant that created a completely central augmentation.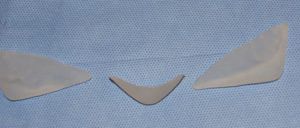 Under general anesthesia, her chin implant was initially removed and replaced through a submental incisional approach. This was to ensure that the implants sat down on the bone as low as it was designed and to place screw fixation. The jaw angle implants were placed through an intraoral approach using posterior vestibular mucosal incisions. Because it was a vertical lengthening implant, where half of the implant sits off the bone, double screw fixation was used.
A more tapered and shaped jawline is not always obtained by bone reduction. In some non-Asian jaws augmentation of the jaw angle and chin points may suffice.
Highlights:
V-line jaw reshaping is classically done by chin and jaw angle bine reduction/reshaping.
In the Caucasian face augmentation of the chin and jaw angles may be needed to create the V-line effect.
Custom chin and jaw angle implants can be designed to create a more tapered jawline shape.
Dr. Barry Eppley
Indianapolis, Indiana