Background: Otoplasty, known as ear reshaping, is a commonly performed cosmetic procedure whose intent is to make the ears less conspicuous. An aesthetically pleasing ear is one which blends into the side of the head and has no feature that makes it an 'eye catcher'. The best looking ear is really one that is not noticed.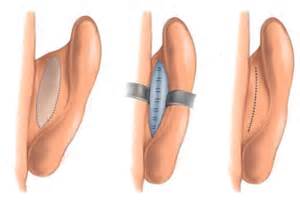 The typical cosmetic otoplasty involves the classic setback or ear pinning procedure. This cartilage reshaping technique creates a more pronounced antihelical fold, reduces the prominence of the inner concha or both. This moves the protruding ear back into a less conspicuous position by changing a portion of its shape.
The earlobe is the lone non-cartilaginous structure of the ear. It is often forgotten in otoplasty because it is not part of the cartilage framework. But it can have its own unique set of deformities that if overlooked can mar an otherwise good cartilage reshaping effort. Earlobes can become conspicuous because they stick out or are too long.
Case Study: This 20 year-old female was bothered by the appearance of her ears. As a result she never wore her hair pulled back to reveal them. Her ears showed a deformity consisting of a combination of the upper 1/3  of the ear which stuck out and her earlobes which were unusually long for her age.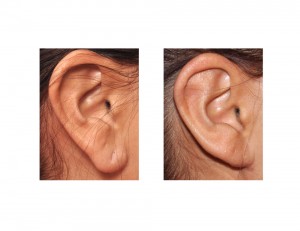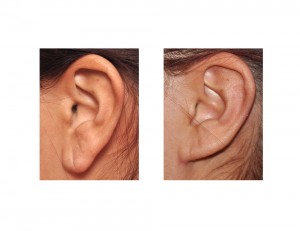 Under general anesthesia she had an initial cartilage reshaping of the upper ear. Horizontal mattress sutures were placed to make the antihelical fold more prominent and pull back the upper helix through a postauricular incision. The earlobes were then reduced using a helical rim excision technique.
Her ear results showed a much better ear shape from top to bottom. The protruding upper ear was less obvious and the reduction in the vertical length of the earlobes made a huge difference. A shorter and more proportioned earlobe even made her ears look 'younger'.
Case Highlights:
1) Numerous changes can be made to the ear during an otoplasty procedure besides just pinning the ears back.
2) It is common that repositioning of the protruding earlobe is also done with reshaping of the ear cartilage.
3) Reduction of the long earlobe is usually best done by a helical rim excision technique. It is most commonly done in older patients who may naturally have developed longer earlobes with aging or ear ring wear.
Dr. Barry Eppley
Indianapolis, Indiana
Tags: dr barry eppley, ear reshaping, earlobe reduction, indianapolis, otoplasty, plastic surgery case study