Background:  Chin augmentation is one of the most common facial reshaping procedures both historically and to the present day. While augmenting the chin is a straightforward procedure using a variety of implant shapes, management of the large chin (macrotia) is a completely different story. Not only is it less commonly needed  but the procedure to do it are not well understood.
The traditional and often chosen procedures for macrogenia are intraoral approaches either shaving or cutting the bone and moving it back. Shaving the chin bone intraorally is a simple procedure and seems like it would work…but it doesn't. It consistently leads to soft tissue chin ptosis as the degloving of the soft tissues and the soft tissue excess creates a soft tissue sag off of the bone. A bony genioplasty has a role in vertical and width reduction of the chin. (V line jaw surgery) But doing a sliding genioplasty and moving it backwards for too much horizontal projection create sa relative soft tissue excess. This  results in the excessive soft tissue being relocated to a bulge under the chin.
The submental chin reduction is a technique that addresses both the bone and soft tissue aspects of a large chin. Using an incision below the chin, the bony chin can be reduced by  shaving or burring the chin in all three dimensions. Once the bone is reduced, the excess soft tissue created can be managed by a submental tuck which redrapes the soft tissue over the remodeled chin bone.
Case Study: This 25 year-old female had a prior history of a vertical reduction boy genioplasty done to reshape a large chin. It failed to achieve its desired aesthetic goals and actually made the chin wider as it vertically shortened it, exaggerating the patient's original aesthetic chin concerns.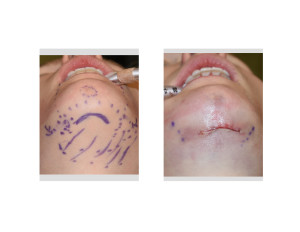 Under general anesthesia, a submental incisional approach was used to expose the bony chin. The incisional length was  4 cms and stayed well within vertical lines dropped down from the corners of the mouth. The bony was burred down horizontally and in width. The sides of the chin was taken down back behind the mental nerves removing the stepoffs from the prior chin osteotomy.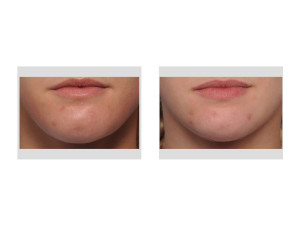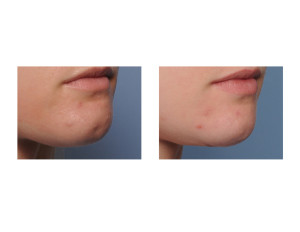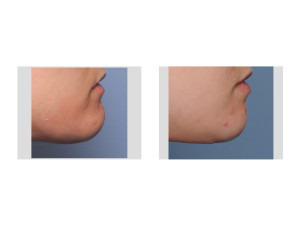 Her submental chin reduction results after three months showed improvement in the shape of the chin being smaller in horizontal projection and in its width.
Highlights:
1) Chin reduction is a challenging procedure because of the need to manage the excess soft tissue as well as that of the bone.
2) A submental chin reduction allows for reduction of both the bone and the soft tissue chin pad.
3)  A submental chin reduction allows for 3D reshaping of the chin bone including length, projection and width.
Dr. Barry Eppley
Indianapolis, Indiana
Tags: dr barry eppley, indianapolis, plastic surgery case study, submental chin reduction