Background: Aging affects faces at different rates but the overall effect is the same. The face slowly sags with skin hanging over the jawline and the neck tissues becoming loose. Because facial aging occurs differently, the type and extent of its treatment should also differ.
The facelift remains as the definitive treatment of the lower face. While many different non-surgical treatments have been described and are available for lower facial aging, they all fall short of what the facelift operation can do. No non-surgical treatment can lift and tighten loose face and neck skin like removing and tightening facial tissues can do.
The fundamentals of facelift surgery are largely the same regardless of the method used. But the extent of the procedure can be altered to be less extensive based on either treating less severe forms of facial aging or doing a 'repeat' or secondary facelift.
Case Study: This 55 year-old female had some loose skin along her jawline and neck that she wanted gone. She was very thin and had little subcutaneous fat just about anywhere on her face and body.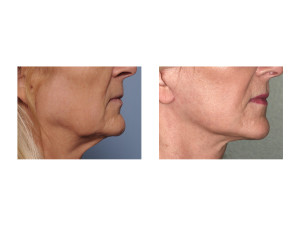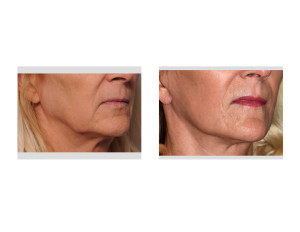 Under general anesthesia, she had a type 1 facelift performed. In this type of facelift, a short skin facelift flap is raised from around the front and back of the ear to the level of the nasolabial fold and to just shy of the center of the neck. The deeper SMAS layer is plicated upward by a horizontal row of sutures below the zygomatic arch and a vertical row in front of the ear. The skin is redraped, excised and closed in the traditional manner around the ear.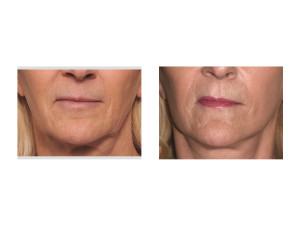 The type 1 facelift is a more limited facial rejuvenation procedure based on the extent of the facial aging pattern. It goes by many different names (Lifestyle Lift, Quicklift, mini facelift, Light Lift, Featherlift etc) and within each one lies subtle technique differences. But they all share the more limited dissection approach and are best used when the extent of facial aging is also more limited.
Highlights:
1 The type 1 facelift may also be called a mini-facelift or a jowl tuckup procedure.
2) The early signs of facial aging can be corrected by a short skin flap and SMAS plication.
3) The this type of surgical facial rejuvenation procedure has a very rapid recovery and one can look very socially acceptanle at one week after surgery.
Dr. Barry Eppley
Indianapolis, Indiana
Tags: dr barry eppley, facelift, indianapolis, plastic surgery case study