Sunday, January 21st, 2018
Buttock implants have had an increasing role in buttock augmentation due to the popularity of Brazilian Butt Lift (BBL) surgery. It has greater awareness of surgical buttock augmentation. But when the results from fat grafting are inadequate or one does not have enough fat to harvest, implants are the remaining buttock enhancement option.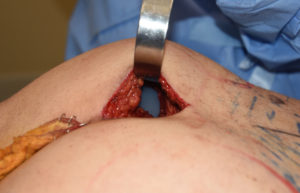 While buttock implants comes in different styles and sizes and there is debate about implant location (subfascial vs intramuscular), they all must be placed through an intergluteal incision regardless of style size and pocket location. This incision can be a single midline incision through which both right and left implants are placed. An alternative is two paired intergluteal incisions, separated by a thin midline island of skin over the sacrocutaneous ligament, to keep totally separate the right and left implant pockets.
But whether there is one or two incisions at the intergluteal crease, they are exposed to shearing forces from sitting and sliding. This exposes the incisional closures to separation after surgery (wound dehiscence), which often does not occur until weeks later. Its occurrence is not uncommon and I counsel my patients to expect some degree of it 100% of the time.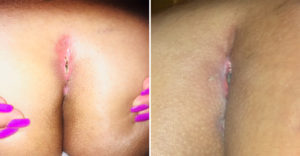 These intergluteal incision separations do not expose the implants, even in the subfascial pocket, because there is as three layer closure of tissues between the skin closure at the implant pocket. But it will be associated with exposure of fatty tissue and the weeping of fluid. Once the incision separates trying to reclose it by secondary suturing will not work as the inflamed tissues will not hold sutures.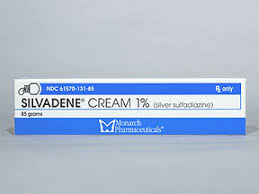 Such buttock implant incision dehiscences are best treated by the application of 1% Silvadene cream, a well known topical burn care treatment. Its combination of sulfa and silver is a potent antimicrobial that is also a wound debriding agent that helps to create more granulation tissue. It is this granulation tissue that must fill up the wound before the surrounding skin edges will finally close the wound. This is a process that can easily take 4 to 6 weeks to achieve a fully healed wound.
No matter what closure technique is used for intergluteal buttock implant incisions, they all are associated with some percentage of postoperative wound separations. While this can be scary and frustrating to the patient, successful healing can be achieved with topical wound care and patience.
Dr. Barry Eppley
Indianapolis, Indiana