Monday, June 12th, 2017
Background: The Costo-Iliac Impingement Syndrome, also known a the Rib Tip Syndrome, is a well known syndrome of back and hip pain caused by the touching of the 12th rib against the iliac crest. It most commonly occurs in patients who have had osteoporosis of the spine and loss of vertebral height. This allows the spine to curve and bend towards one side. It can also occur in patients with congenital scoliosis as well as younger patients who have a naturally longer 12 rib or an accentuated angulation downward at its takeoff from the spine or from a previous fracture.
Diagnosis can be done by physical examination and history as most patients can tell you that they know the rib is touching their hips. Deep palpation can feel the length of the 12th rib on its course downward.  The pain can be provoked by lateral flexion on the affected side. Ribcage x-rays can confirm the diagnosis. Definitive treatment is subtotal resection of the 12th rib on the affected side. Few clinical series exist but the few that have been published report relief of symptoms 100% of the time.
The free floating ribs (#s 11 and 12) have a different angulation from the spine than that of the superior ten ribs. Because their anatomy is not to wrap around the waistline or chest, they have a more downward angulation rather than a horizontal one. While many anatomic representations show the 11th and 12 ribs, I am often impressed how significant this downward rib angulation is in the many posterior rib removal surgeries that I have done. It is often 60 to 75 degrees downward in many cases, greater than what textbook illustrations would led you to believe. It is easy to see how it is possible that it could touch the hips in flexion in some short-waisted patients.
Case Study: This 30 year-old female was bothered by left hip/back pain on flexion to that side in numerous body positions. She was well aware that it was probably rib-related. Palpation revealed a long 12th rib that was at the level of the iliac crest. On bending to that side the discomfort could be elicited. For purposes of symmetry and any waistline reduction benefits, bilateral rib removals were planned.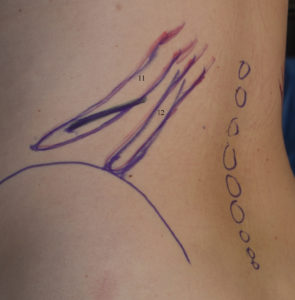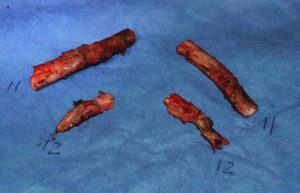 Markings done before surgery showed the relationship of the 12 rib to the height of the iliac crest. Bilateral subtotal 11 and 12th ribs were done through 4.5 cm long oblique back incisions.
Provided a proper diagnosis is done before surgery, one can expect a near complete resolution of hip and back pain from the Costo-Iliac Impingement Syndrome with subtotal rib removal. Whether one chooses to add rib 11 along with 12 depends on the preoperative physical findings and the patient's goals. If any doubt about rib length or angulation a 3D ribcage CT scan should be preoperatively done. This will remove all doubt about the shape of the lower ribcage anatomy.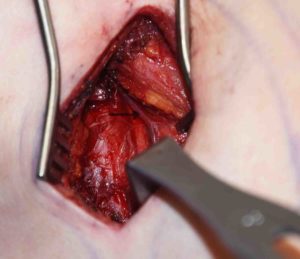 When removing any rib for aesthetic or functional purposes, preservation of neurovascular bundle at the inferior edge on the rib is important. Injury to the intercostal nerve during its dissection could potentially end up trading off one source of pain for another.
Highlights:
The Costo-Iliac Impingement Syndrome is due to a long or severely angulated 12th rib that touches the top of the iliac crest in flexion or sitting.
An effective treatment for this syndrome is subtotal removal of the 12th rib and even the 11th rib if necessary.
For purposes of waistline symmetry, bilateral subtotal rib removals can be done.
Dr. Barry Eppley
Indianapolis, Indiana