Cartilage grafting in rhinoplasty is an essential part of aesthetic nasal augmentation. It is traditionally used as an onlay method, using single layer or stacked grafts. While effective for some cases, it requires straight grafts that can be shaped with smooth edging.  This does not always fit, however, every defect and straight grafts can be hard to find. This has led to the contemporary use of diced cartilage grafting which allows an injectable graft though syringes that can be molded intraoperatively.
The use of diced cubes of cartilage in rhinoplasty is associated with using a containment method. This has been either temporal fascia, the product Surgicel or thin allogeneic dermis. There is great debate about which wrap for diced cartilage is best. But the debate is now switching to whether any containment method is really needed at all.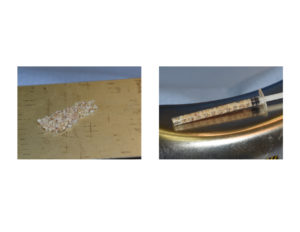 In the November 2017 issue of the journal Plastic and Reconstructive Surgery an article was published entitled 'Injection of Compressed Diced Cartilage in the Correction of Secondary and Primary Rhinoplasty: A New Technique with 12 Years' Experience'. In this paper the authors reviewed their decade plus experience in over 3,000 patients of which over 2,300 were primary procedures and almost 800 were secondary rhinoplasties. Diced cartilage was injected using a special syringe design which compresses the cartilage into a malleable cylindrical-shaped mass. They report a 98% graft take, creating a smooth external surface contour. Less than 1% (21 patients) had partial resorption of the injected grafts. They were treated by secondary injection. Over 1% (36 patients) had over correction which was treated one years later by rasping when the graft was completely consolidated.
This paper offers an extensive clinical experience with using compressed diced cartilage grafting. By compressing the graft it becomes easier to place as well as is composed of pure cartilage. This accounts for its high take that would be comparable to solid cartilage grafting.
Dr. Barry Eppley
Indianapolis, Indiana