ePTFE (expanded polytetrafluoroethylene) offers a facial implant material that is very biocompatible and also induces some tissue adherence. Due to the microfibrillar nature of its surface, ePTFE has some surface porosity where fibroblasts can attach and induce collagen attachments. ePTFE, however, does not come in any solid preformed facial implants and they have to be hand carved during surgery out of a block of the material.
For nasal implants, ePTFE offers a fairly easily and quick carving to get the desired length and shape. But it would still be preferable if a performed version of an ePTFE nasal implant existed.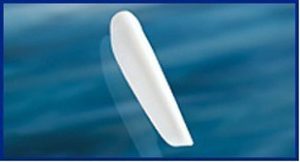 In the February 2016 issue of the Annals of Plastic Surgery, a paper was printed on this very topic entitled 'Silicone-Polytetrafluoroethylene Composite Implants for Asian Rhinoplasty'. Over a four year period, 177 Asian patients underwent rhinoplasty using a dorsal composite nasal implant.  (about 2/3s primary rhinoplasty and 1/3 secondary rhinoplasty) The average dimenions of the ePTFE coated silicone nasal implants was 1.5 to 5 mm thick and 3.8 to 4.5 cm long. Autologous cartilage was used for tip coverage in every case. Glabellar augmentation was also performed in 11% of the  patients.
There was an 11% complication rate which included implant malposition/deviation (5%), persistent redness (2%) and actual infection. (1%) There were no cases of extrusion. There was a 9% revision rate either due to malposition or inadequate dorsal height from the patient's perspective. There were no complication differences between use of the implant in primary or secondary rhinoplasty.
The use of an implant, whether it is solid silicone or solid ePTFE, are mainstays of Asian rhinoplasty. They both havge their own distinct advantages and disadvantages…silicone offers a performed shape while ePTFE offers some tissue adherence. Silicone-polytetrafluoroethylene (PTFE) composites have a silicone core and a thin ePTFE coating. They appear to offer the advantages of silicone and ePTFE in a single implant. Despite that they have been around now for several years, there have been no published reports in them.d alternatives for rhinoplasty because of a lack of relevant reports. This clinical study shows that the short-term ouotcome is similar to that of ePTFE alone and can be effectively used for both primary and secondary augmentation rhinoplasty in Asians.
One of the keys to the use of any nasal implant is to keep it from putting too much pressure on the nasal tip skin. Thus the use of a cartilage graft over the tip area.
Dr. Barry Eppley
Indianapolis, Indiana