Correction of the sagging breast with various breast lift procedures is an important part of breast rejuvenation surgery. Many different types of breast lift procedures have been described over the past century and all involve the use of skin removal and breast envelope tightening to create their effects. Unfortunately the thin breast skin is well known to stretch out and does not usually do a good job of maintaining the lifted breast by itself.
Adding to the armamentarium of the plastic surgeon for breast lift techniques has been that of parenchymal sculpting. This is where the breast tissue itself (not the skin) is reshaped and lifted back up onto the chest wall and secured. This adds to a breast lifting effect and helps to take some of the necessary support off of the tightened breast skin. But often breast skin tightening and parenchymal sculpting still does not provide pleasing long-term results.
A more recent innovation and breast lifting technique has been the implantation of various synthetic meshes. By creating a sling across the lower pole of the breast an additional layer of support is added which theoretically aids the lifted breast long-term.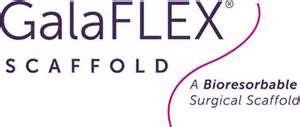 In the January 2017 issue of the journal Plastic and Reconstructive Surgery, a paper entitled 'Use of Poly-4-Hydroxybutyrate Mesh to Optimize Soft-Tissue Support in Mastopexy: A Single-Site Study was published. Over a two-year period, 11 consecutive patients underwent a breast lift with the placement of Galaflex mesh across the lower pole. 3D scans were done for postoperative assessment out to one year after surgery.
There were no complications or infections in the study. Postoperative breast settling occurred between 1 and 3 months after surgery with lower pole stretch of 5% and an average of 8mms increase in the nipple to inframammary fold distance. No significant change occurred from 3 to 12 months after surgery as measured from the sternal notch to inframammary fold distance.

Similar to repairing a hernia, the use of mesh is breast surgery is to reinforce weak tissue.  Galaflex is a unique and newer synthetic mesh. It is composed of poly-4-hydroxybutyrate polymer which is a high-strength and resorbable monofilament fiber. It maintains its initial strength out to 3 months after which it remodels and is replaced by collagen (scar)  by one year after surgery. The fact that it is resorbable and replaced by one's tissues is an appealing feature, particularly in the thin lower pole skin of the female breast.
More clinical work is needed to determine the longer term results of Galaflex in breast lift surgery. But the concept remains very appealing has the lifted breast is not very resistant to the effects of gravity.
Dr. Barry Eppley
Indianapolis, Indiana