The most common form of buttock augmentation is by fat injections. Known worldwide as BBL surgery (Brazilian Butt Lift), it offer a natural buttock enhancement procedure with the dual benefit of reductive body contouring from the fat harvest. But despite its appeal not everyone is a good candidate for it. It requires a certain amount of body fat to create the volume needed for a visible buttock size inrcrease.
In thinner patient with low body fat, buttock augmentation can only be done with implants. Buttock implants have a very checkered history with relatively high complication rates for a variety of reasons. But today's method of placing buttock implants in the intramuscular location offers a much lower rate of complications and the need for revision surgery or subsequent implant removal.
Intramuscular buttock implant surgery, however, has three key differences from past techniques that are very important for patients to understand. These are pocket location, size expectation and postoperative recovery.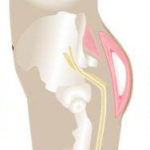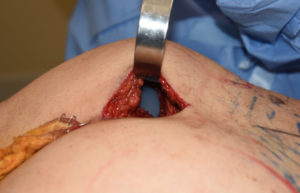 Unlike breast implants, the placement of buttock implants is inside the muscle not under it. This is not a natural tissue plane and creating the intramuscular pocket requires experience in doing it. It is a much harder technique to learn than placing the implants above the muscle. (subfascial location) Learning the technique in cadavers at a training course is really the best way to develop expertise in this form of buttock augmentation.


Because the intramuscular pocket is more confining than the subfascial pocket, the amount of buttock size increase will be less. As a general rule the largest size of intramuscular buttock implant that can be placed is in the range of 300cc to 330cc for most patients. This more 'modest' buttock size increase is a very important concept for patients to understand. For a permanent result that has much fewer complications a smaller buttock size must be accepted.
Separating the gluteus maximus muscle to make an implant pocket does carry a more significant recovery than any other form of buttock augmentation. While Marcaine and Exparel local anesthetic injections definitely help reduce discomfort right after surgery this is a significant muscle injury on a body part that has to be compressed (sit on) at some point after surgery. It is important that patients do not under estimate the recovery period from intramuscular buttock implants.
Dr. Barry Eppley
Indianapolis, Indiana