Aging affects all facial tissues to some degree including the nose. The effects of time on the nose occurs at the nasal tip where the cartilages are help up by ligaments to the cartilage structures of the middle value. The effects of age on the nasal tip are that some increased droop can occur as the ligaments weaken or stretch. This makes the tip go down slightly and the nasolabial angle lessens.
The typical treatment for a drooping nasal tip, at any age, is to lift and support the lower alar cartilages in a more upward position. This could involve trimming of the upper edge of the cartilage, suture suspension or a combination of both. This us usually done from below through an open rhinoplasty approach.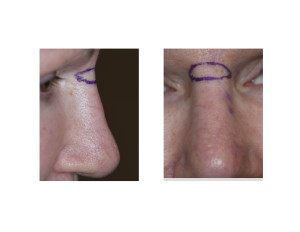 In older patients with nasal tips that droop or in older patients that have been through a rhinoplasty and do not want any further open rhinoplasty surgery, an alternative approach would be a 'nasal lift'. Like anti-aging procedures on the face this involves the use of skin excision at a distant location to create its effect. No cartilage manipulation is done.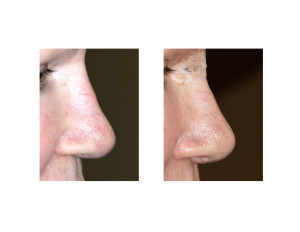 Using a horizontal skin excision at the bridge of the nose (frontonasal angle), the tip of the nose is lifted from the upper nasal tissue closure. Because the tip is at some distance from where the lift is created, the amount of nasal tip elevation would be slight. (1 to 2mms)
While the removal of nasal skin and the creation of a fine line scar in the upper nose may seem 'radical', it really is not. The location of a fine line scar is at the frontonasal junction which is a natural skin line when one lifts their  nose or squints. Many older patients already have a fine line skin wrinkle there already.
A nasal lift is a very uncommon procedure that would only be for a very specific type of nose patient. One must be older, have an established frontonasal crease and desire only a minor amount of nasal tip rotation.
Dr. Barry Eppley
Indianapolis, Indiana
Tags: dr barry eppley, indianapolis, nasal lift, rhinoplasty