The sagittal split osteotomy of the lower jaw is a well known orthographic surgery operation. Splitting the ramus of the mandible into two sagittal half allows the lower teeth that lies within the distal bone segment to be repositioned while maintaining maximal bone contact with the proximal bone segment. The split mandibular ramus goes on to heal after surgery because of this amount of bone contact
While the osteotomy site of the sagittal split mandibular osteotomy almost always heal uneventfully, there are bony shape changes that can occur. Changes in the shape of the jaw angle are not uncommon after this procedure due to an actual shift of the angle's position or some resorption of the bone. As a result, while a patient's bite may become perfect, a few patients will develop a malformed or jaw angle shape deficiency after surgery.
Jaw angle implants are a means to recreate jaw angle shape after these type of mandibular osteotomies. If a standard type of jaw angle implant is to be used the vertical lengthening style is the shape of choice. But many such jaw angle deformities, because of symmetry and differences in bony shapes, require a custom jaw angle implant approach achieve better jaw angle restoration symmetry.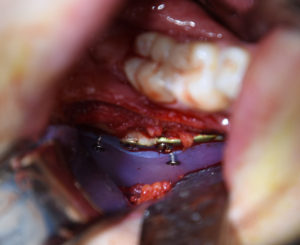 Regardless of the type of jaw angle implant used, their intraoral placement almost always encounters the original hardware used for the bony fixation of the sagittal split osteotomy. Since plates and screws are most commonly used, a part of the hardware may still be visible without bone overgrowth. This is not a problem for jaw angle implant placement as the implant will lie well below it. When custom jaw angle implants are used it may actually be of benefit since the implants may be designed around it and used for a positioning guide.
The jaw angle implant is always secured into position with screws placed through its superior edge often done using a percutaneous technique.
Dr. Barry Eppley
Indianapolis, Indiana