Alloplastic chin augmentation is the oldest facial implantation procedure. As a result, many different styles and sizes of chin implants have been used over the five decades of the procedure being performed. While in the vast majority of patients standard preformed chin implants work just fine, they do not always achieve the patient's aesthetic lower facial reshaping goals. It is important to remember that current chin implants styles are based on historic patient's aesthetic needs and surgeon experiences as well as what is economically feasible for the manufacturer. (they can't produce endless styles of chin implants that end up having few commercial sales)
It is also relevant that today's patients may have different aesthetic goals than that of what was popular ten or twenty tears ago. Patients are also becoming increasingly sophisticated as to the nuances of their facial aesthetics and, in some ways, are becoming more '3D' in the desire for their facial changes. There is also the patient who has had a standard chin implant and is dissatisfied with the result due to shape issues.
As a result, there is an increasing role for custom chin implants. Even though the chin implant is the 'simplest' of all facial augmentation procedures that does not mean it is always easy to get a pleasing chin augmentation outcome. Contrary to popular perception the revision rates of chin implant surgery is not as low as most patients and surgeons believe. I have seen many patients who are on their second or third chin implant seeking an improved result.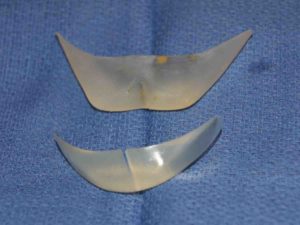 Customizing a chin implant design can achieve several shape improvements over standard chin implants. First and foremost it can provide a horizontal projection versus width ratio that is not available in standard styles. Secondly, it can create a vertical lengthening increase with horizontal and transverse widths that is not currently available. Third, the wings of the implant can be designed to blend in better along the inferolateral borders of the lower jaw. Lastly, features such as a vertical chin cleft can be added.
Dr. Barry Eppley
Indianapolis, Indiana