The shape of the nose amongst people is as different as that of fingerprints. Between the innumerable size and thicknesses of the bone and cartilage that make up the nose and its thick or thin skin cover, the variability in nose shapes is endless. What rhinoplasty can do is to change the shape and thicknesses of the supporting bone and cartilage framework onto which the skin covers it. The skin of the nose is rarely, if ever, surgically altered by removal.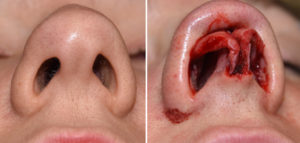 One of the classic examples of how the shape of the nose comes from its structural framework is that of the bifid nose. This is where a cleft or groove exists down through the center of the tip of the nose. It separates the nasal tip into two discernible halves. It is not an uncommon nasal tip deformity. It can occur in nasal tips that are both narrow and wide and results from a separation of the lower alar cartilages from the tip down to the base of the columella. In this open rhinoplasty surgery the cause of the groove down the nasal tip can be seen from the wide spacing between the medial footplates of the columellar cartilages.
Repair of the bifid nasal tip is done by closing the gap between the separated cartilages through suture techniques in an open rhinoplasty approach. In some cases a cartilage graft (columellar strut) may also be used to fill in the gap. As the skin follows what the cartilage looks like underneath the groove on the skin disappears after surgery.
Dr. Barry Eppley
Indianapolis, Indiana