Cheekbone reduction surgery typically is done by a double osteotomy technique. The anterior cut allows the posterior body of the zygoma (main body of the cheekbone) to move in. The posterior cut is done at the back end of the attached zygomatic arch just in front of the ear. These two cuts allow the whole side of the cheekbone to move inward. This creates the facial narrowing effect.
The anterior cheekbone osteotomy is done from inside the mouth and various design patterns have been described for it. But regardless of the design of the bone cut, it needs to be secured with a plate and screws to prevent inferior migration and sagging cheek soft tissues. Failure to do so is the most common cause of postoperative loss of cheek volume.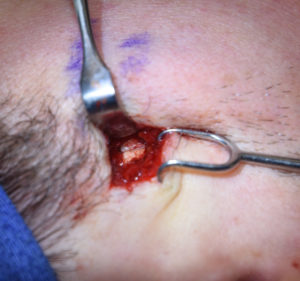 Conversely, the posterior cut through the back end of the zygomatic arch is done externally through a skin incision. By making an incision at the back end of the sideburn hair, direct access can be done right down to the temporal process of the zygomatic arch.  An angled bone cut is then made just before the arch joins the temporal bone. This bone cut, combined with the anterior bone cut, allows the whole cheekbone segment to move inward. With plate and screw fuxation of the anterior, such rigid fixation may not be needed on the posterior cut to hold it in. The angled cut allows the tail of the arch to move inward and being self-locking.
Dr. Barry Eppley
Indianapolis, Indiana