Brow bone reduction surgery reduces the prominence of the supraorbital ridges of the forehead and can be done in both men and women. Whether done for males to reduce the 'Neanderthal' brow or in male to female transgender facial feminization procedures, the main direction of reduction is in the horizontal dimension. Reducing the brow bone prominence generally means reducing its projection.
But horizontal brow bone reduction is not the only dimension of the brows that can be changed…or may need changed based on the patient's aesthetic desires. Brow bones can also be reduced vertically to increase the orbital aperture and give the eyes a more open look or reduce a heavy appearance.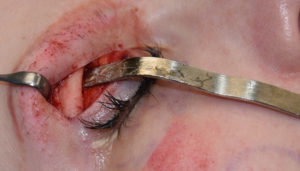 While both horizontal and vertical brow bone reduction can be done through a long coronal scalp incision, a purely vertical reduction of the bone does not need to be done so. It can be done through an upper eyelid incision (transpalpebral approach) which provides a direct and short route to the lower edge of the brow bone.Using a handpiece and burr the brow bone edge can be raised 5 to 7mms if desired from side to side. It also can be reduced horizontally if desired on the outer 2/3s of the brow bone.
The transpalpebral approach is an often overlooked method for brow bone reduction. While it does not provide enough access for the more significant osteoblastic flap reduction technique and is limited for central or glabellar reductions, it does provide direct visual access to the tail of the brow bone where burring reduction can be done. It is an excellent technique for secondary or revisional brow bone procedures and can be used for primary reductions that need changes in the outer half of the brow bone only.
Dr. Barry Eppley
Indianapolis, Indiana