Friday, July 3rd, 2015
Background: One of the main characteristics of the male forehead are the brow bones. They usually are more pronounced than the projection of the forehead creating a brow bone break between the two structures. Brow bones occur in men due to the larger growth of the underlying frontal air sinuses, a result of a testosterone influence. Brow bone problems in men are more often the result of excessive overdevelopment rather than underdevelopment.
Building up a deficient or flat brow bones can be augmented by a variety of implanted materials. The simplest brow bone augmentation method is by fat injection. It can be placed without an incision and can be feathered the whole way down the lateral orbital rim. Its one disadvantage is that fat survival is unpredictable and often undergoes substantial resorption weeks to months after surgery.
A brow bone implant is a permanent augmentation method as its composition can not undergo any physical change. While there are a number of available materials the most versatile and easily made is that of silicone. Having worked with silicone brow bone implants over the years, a variety of 'off the shelf' implant designs have been used and can be applied to other patients as well. Ideally a custom made brow bone implant can be fabricated from the patient's 3D CT scan and build out in shape and size to what the patient wants.
Case Study: This 32 year-old male was having a variety of facial reshaping procedures and brow bone augmentation was one of them. He had no brow bone prominence evident and a flatter forehead profile. He opted for a preformed brow bone implant placed through one of his low horizontal forehead wrinkles.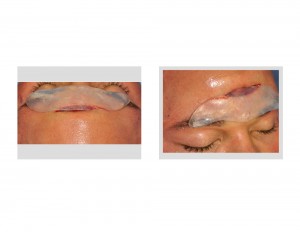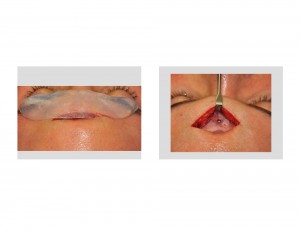 Under general anesthesia, the brow bones were exposed through a central horizontal forehead incision. The supraorbital and supratrochlear nerves were identified and retracted downward. The brow bone implant was inserted, positioned and secured with a single midline small screw. The forehead incision was closed in layers.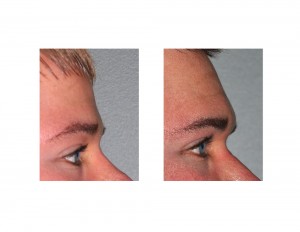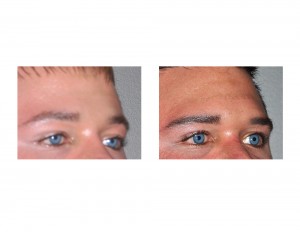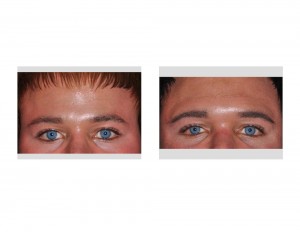 When seen nine months after surgery he had a very noticeable brow bone ridge and brow bone break. The scar had healed nicely and it was not noticeable.
While brow bone augmentation is uncommon, its biggest issues are the implant's design and how to get it onto the brow bones. (incision) The shape and thickness of the brow bone implant is best done through a custom manufacturing process. But I have done enough of these surgeries over the years that a number of different preformed brow bone implants are available. The real challenge is how to place it and the most common methid would be through an endoscopic approach from at the hairline or just behind it. In rare instances, like in this case, the patient will permit direct access through a horizontal skin incision just above the brow bone area.
Highlights:
1) Permanent brow bone augmentation can be done using a custom made brow bone implant.
2) Placement of a brow bone implant requires an open incision which can be done through a mid-forehead crease/wrinkle.
3) Brow bone implants are available in preformed shapes or can be custom made.
Dr. Barry Eppley
Indianapolis, Indiana