Saturday, September 26th, 2015
Brow bone reduction surgery is often done either for men with extreme prominences or as part of facial feminization surgery. The brow bones can be reduced by two basic methods, bone burring or an osteotomized bone flap. The thickness of the anterior frontal sinus wall and how much brow bone reduction is needed will determine what is the best technique for the patient.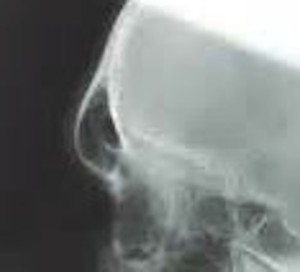 But for very prominent brow bones a frontal sinus wall setback technique is needed. Known as an osteoplastic bone flap method, it is done by removing the entire frontal sinus wall by sawing it off flush with the surrounding forehead bone. This exposes some or all of the underlying frontal sinus cavities. Sometimes the mucosal lining can be kept intact if it is carefully peeled off the cut bone segment. The removed bone segments are rehaping, usually thinning them out so a flat piece is obtained, and then put back.
Putting the frontal sinus bone flap back requires that it be fixed to the underlying and surrounding bone. A stable bone segment will permit a good seal over the frontal sinuses (to prevent a postoperative air leak) and will allow for bone consolidation/healing. Multiple methods of brow bone fixation have been used from resorbable sutures, wire ligature and various sizes of metal plates and screws. Depending on the shape of the repositioned bone segment and how it fits into the surrounding bone, any of these bone fixation methods can work. The most stable method is always going to be plate and screw fixation as it is anywhere else on the craniomaxillofacial skeleton. But the plates and screws need ti be fairly small so that their profile does not eventually show through the forehead skin.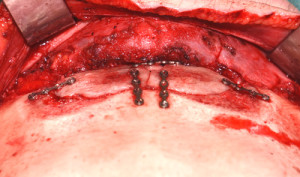 Microplate and screw fixation is ideal for the brow bones. With screws that are just 1mm in size and plate profiles that also sit no higher than 1mm, they provide firm fixation with negligible prominence. They can be used to piece together small bone fragments to securely cover the exposed frontal sinus. The length of the screws need to be no longer than 4mms to just enter the outer cortex of the forehead bone.
Brow bone fixation with microplates and screws works well but has only one minor drawback…cost. Such fixation will always be more expensive than that of sutures or even large plates and screws.
Dr. Barry Eppley
Indianapolis, Indiana