Monday, March 7th, 2016
Background: Increasing the size of the calf (gastrocnemius) muscles is very difficult. The tight and dense muscle fibers of this lower leg muscle take extreme muscle-building exercises to enlarge the overall muscle size. And unless one is willing to continue these exercises for the rest of one's life, the size of the calf muscles will not persist.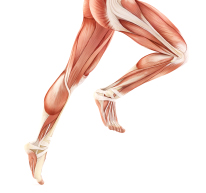 The most immediate and permanent method of calf augmentation is the placement of calf implants. Inserted through small incisions on the back of the knee, they are placed in the subfascial location on top of the muscle. Because there are two separate bellies of the muscle, implants can be placed on either the inner or outer calf muscles or both.
Patients for calf augmentation generally hope to achieve one of two effects. Some patients simply want to have a more shapely lower leg by making the inner belly of the calf muscle bigger. This creates an outward bulge that changes a straight line leg profile. Less commonly are patients that want to have a much more muscular appearing calf and need both inner and outer calf implants to create a more profound effect.
Case Study: This 36 year-old male wanted to make his lower leg look more proportionate to his upper leg. He had very skinny lower legs with a straight line profile from the knee to the ankle.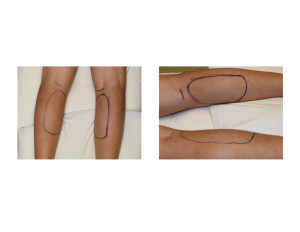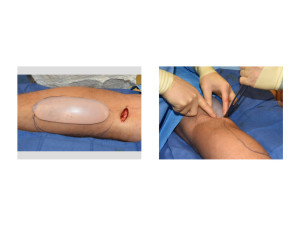 Under general anesthesia and in the prone position, 3.5 cm skin incisions were made on the inner half of the popliteal fossa behind the knees. The fascia was incised and subfascial pockets developed. Medium size calf implants (Implantech) were inserted over the medial belly of the muscle and as anterior s possible. The incisions were closed with resorbable sutures.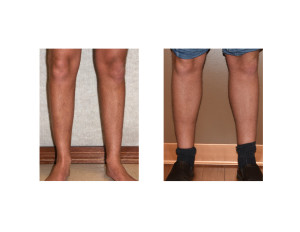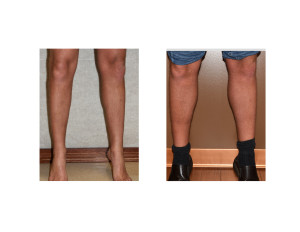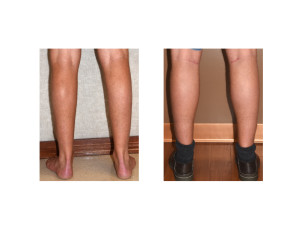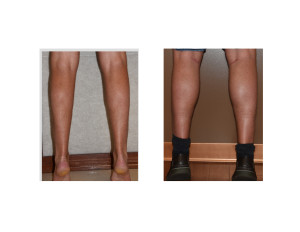 His postoperative results showed an improved lower leg profile in the inner half. There is now a more pronounced bulge below the knee that makes the leg look more muscular and proportionate. The muscle is more evident which is seen when standing his toes.
Calf implants provide permanent muscle enlargement. The size of the calf implant chosen is subjective and the maximum size implant that will fit into the subfascial pocket should always be chosen as it very difficult, if not impossible, to make a calf look too big.
Highlights:
1) Calf implants provide increased gastrocnemius muscle size to improve the shape of the lower leg.
2) The most common location for calf implants is on the medial or inner half of the gastrocnemius muscle.
3) Calf implants improve only the upper half of the lower leg.
Dr. Barry Eppley
Indianapolis, Indiana