Wednesday, April 1st, 2015
The use of 3D CT scanning and sophisticated imaging manipulation software has now made it possible to design specific implants for the face and skull for aesthetic augmentation/contouring and reconstructive purposes. This helps fill a growing need for patients who aesthetic and reconstructive requirements exceed what standard off-the-shelf implants can provide. The creation of these custom implants is possible because of a collaborative relationship between Implantech, the largest US manufacturer of facial implants located in California, and Medical Modeling a high tech engineering firm located in Colorado.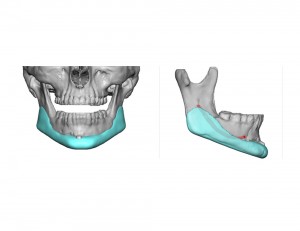 While the surgeion helps determine a patient's need for custom implants and surgically places them, their design and fabrication occurs as a result of a working relationship between the doctor, Implantech and Medical Modeling. It is important that the patient understands how this relationship works as well as that of the implant design process. Having done many custom facial and skull implants over the past several years, many questions and issues has arisen in this design and fabrication process. Based on these experiences and knowledge, I have created a list of the most common issues that are important for patients to understand before they begin the custom implant process.
THE  FINAL DESIGN OF THE CUSTOM IMPLANT IS ONLY AS GOOD AS THE CT SCAN FROM WHICH IT IS MADE. A very specifically taken 3D CT scan is first required. These are high resolution CT scan slices (0.1mm)  that does not require IV contrast to be done. The doctor will usually order the scan at a facility of your choice and provide them with the protocol so that is it done properly. In some cases patients may already have a 3D CT scan in which case it will be verified with Medical Modeling that it is of adequate quality.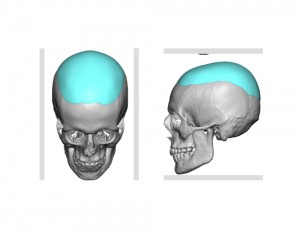 A CUSTOM IMPLANT'S DESIGN IS AS MUCH ART AS IT IS SCIENCE. While the computer software and the engineer that drives it can make any design, it has no innate knowledge as to what it's aesthetic result will be or how it will look on the patient. Computer software does a terrific job of optimizing the implant's fit to the bone, making the size and shape of the implant that is desired and ensuring optimal symmetry between two sides of the face or skull. This is a bone-based software that as of yet can not calculate the influence of the overlying soft tissue changes that the implant's design will create. Thus while the custom implant is computer designed there is no guarantee that it will create the patient's desired aesthetic result.
CUSTOM IMPLANTS CAN BE MADE WITH SYNTHETIC IMPLANTS/METAL HARDWARE IN PLACE. Patients may often have existing cosmetic implants/materials or metal hardware around the craniofacial area in which the implant is to be positioned. These implants/materials can be digitally removed if needed and do not prevent implants from being designed over their 'ghost' location. Often the size and location of existing implants is helpful in making the new custom implant design as the effect of what is already there provides a template for what needs to be changed.
THE CUSTOM IMPLANT DESIGN PROCESS EXISTS BETWEEN THE DOCTOR AND THE MANUFACTURER. While Medical Modeling and Implantech design and manufacture the custom implants, they work exclusively with doctors and not patients. They are not permitted to work directly with patients or have contact with them as dictated by the regulations of the US FDA. (Food and Drug Administration) Custom implants are prescription devices designed and made for one specific patient under the guidance of the doctor not the patient.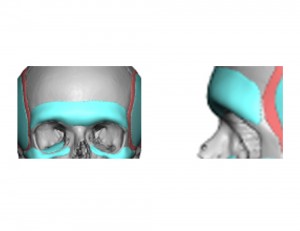 PATIENT DO HAVE THE OPPORTUNITY TO PARTICIPATE IN THE CUSTOM IMPLANT DESIGN PROCESS.  Understandably patients are interested in how the custom implant will look and may feel that have a lot to contribute to how it is designed. Dr. Eppley encourages patient input into the implant's design and in the end requires a patient's final approval before it is sent to be made. Since patient's are not allowed to participate in the actual online design sessions with the engineers, Dr. Eppley will take the patient's suggestions/input into these sessions and share the PDF file of that design with the patients afterwards.
THERE IS A LIMITED NUMBER OF CUSTOM IMPLANT DESIGN SESSIONS THAT ARE ALLOWED. Because there are costs associated with the design process, there are not unlimited design sessions/changes that can be done. One is permitted three (3) design sessions/modifications that are included in the base cost of a custom implant. While further design sessions can be done, there will be additional costs to do so.
THE TIME PERIOD FROM 3D CT SCAN TO SURGERY FOR A CUSTOM IMPLANT IS SIX WEEKS. From the time the doctor receives the 3D CT scan until the custom implant arrives at the surgery center/hospital in sterile packaging is usually around six weeks. In some cases the design and manufacturing process can be shortened and expedited but it is a colloborative process in which haste should be avoided if possible.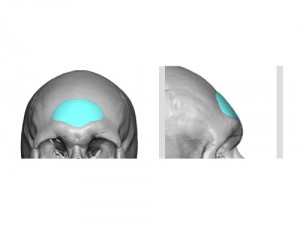 THE FINAL DESIGN OF A CUSTOM IMPLANT MUST BE FINALIZED TWO WEEKS BEFORE SURGERY. Once a surgery date is established, the design of a custom implant must be completed well in advance to permit its manufacture, proper sterilization/packaging and shipping. No changes in the implant's design are possible within this two week window without incurring a change in the date of surgery as well as adding additional costs.
PATIENTS CAN NOT INSPECT THEIR CUSTOM IMPLANTS BEFORE SURGERY.  Custom implants arrive at the surgical facility in multilayer sterile packaging. It can not be removed from this packaging to be held or evaluated by the patient right before surgery as this will make it unsterile and unusable for surgical implantation. The confidence level in the custom implant must come from a review of the PDF design files before manufacture.
REVISIONS OF CUSTOM IMPLANTS IS A NEW CUSTOM IMPLANT. While computer designed custom skull and facial implants have an over 90% patient satisfaction rate in Dr. Eppley's extensive experience, they do not always produce an ideal aesthetic result. As stated previously any computer designed implant is done based on a prediction or belief in what its impact will be on the final aesthetic appearance. This is where it pays to have your custom implant done by a surgeon who has a lot of experience in doing them. It takes this experience to appreciate how changing the bone affects the outside of the face or skull and an appreciation of how the greater surface areas of custom implants influence the aesthetic result. In rare cases a patient may want a new or redesigned custom implant, while this would be a revisional surgery it is a new custom implant from a manufacturer's perspective.
Dr. Barry Eppley
Indianapolis, Indiana