Wednesday, May 4th, 2016
Temporal implants are becoming a permanent treatment option for temporal hollowing. They offer a simple surgical solution using ultra soft solid silicone implants placed in the subfascial location through a small incision behind the temporal hairline. They have proven to be more than capable of creating an adequate temporal augmentation effect, equating to over 2mls of injectable filler (by the water displacement test) for a small standard sized temporal implant.
But as the experience with temporal implants increases, it has become apparent that some patients have temporal hollowing concerns that extend all the way superiorly to the forehead. Thus temporal hollowing concerns can be limited to the area to the side of the eye or extend all the way up to the anterior temporal line. (which some call the side of the forehead) The first generation standard temporal implant only creates its augmentation effect to the temporal concavity at the side of the eye.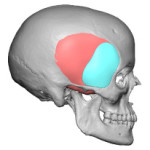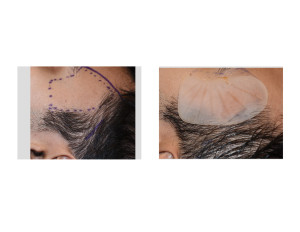 A newer second generation style of temporal implant has been developed that augments the entire temporal region. It is vertically longer so that its superior edge sits right under the temporal line of the side of the forehead in its subfascial location. It is inserted with the same surgical technique as the standard temporal implant but with a few minor modifications of the basic technique.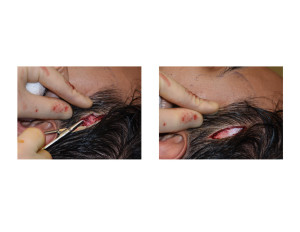 The temporal hairline incision will be about an additional .5 cm longer. (3 to 3.5 cms) The dissection heads down to the deep temporalis fascia through a branch of the superficial temporal artery will almost always be encountered. The deep temporalis fascia is incised at a length that is much greater than the length of the skin incision. The subfascial pocket is elevated widely all the way up to the bony temporal line.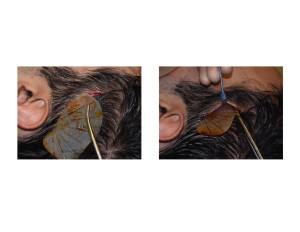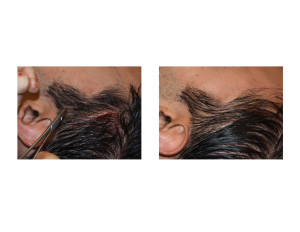 The extended temporal implant is introduced in the subfascial pocket horizontally and then changed to a vertical position once inside. The upper and lower ends of the implant are checked for position and the incision closed in layers including the deep temporalis fascia.
The extended temporal implant offers a broader anterior temporal augmentation effect for those patients with larger or more extensive temporal concavities. Despite its bigger size, it can still be placed through a small incision in the temporal hairline.
Dr. Barry Eppley
Indianapolis, Indiana