Sunday, November 10th, 2013
Smoking is known to have many adverse health effects. The negative effects of the smoke and the many toxins that it contains seem to exert their greatest effect on the lungs due to direct contact. But that does not mean many other parts of the body may not be affected as well.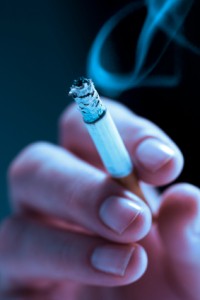 It is often stated that smoking can make you look old. This is assumed to be true since smoking has so many negative effects. This is usually associated with the development of lip lines from puffing on a cigarette. And it is thought (although never yet proven) that it also ages the skin presumably from the effects of the encircling smoke.
A recently published study in the October 2013 issue of Plastic and Reconstructive Surgery entitled 'Facial Changes Caused by Smoking: A Comparison between Smoking and Nonsmoking Identical Twins' has confirmed that smoking makes you look old. Using photos of 79 pairs of identical twins at the annual Twins Day Festival in Ohio. Forty-five (45) sets of twins had one smoker and one non-smoker. The smokers had more wrinkles and other signs of aging but the differences were often small. Of the remaining 34 twin pairs, one twin had smoked for an average of 13 years longer than the other. The twin who smoked for more years had more noticeable lower eyelid bags and more lip wrinkles. Judges who didn't know which twin smoked said the smoker looked older almost 60 percent of the time. That pattern held when both twins were smokers but one had smoked for many years longer than the other.
This study adds good evidence that smoking does impact how the face ages. It likely does it by the toxins in smoke that accelerate the breakdown of collagen, elastin and glycosaminoglycines that help make up the skin. Also by decreasing the amount of oxygen that gets to the skin, there is less nutrients for collagen regeneration.
There are many other factors that affect how one's facial skin ages including sun exposure, alcohol use, and stress. Smoking adds to that list and helps accelerate facial aging when combined with excesses of any of the others. Besides lung cancer, heart attacks and strokes, worsening of one's facial appearance adds to the list of reasons to never start.
Dr. Barry Eppley
Indianapolis, Indiana