Sunday, March 20th, 2016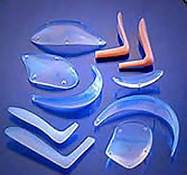 Facial implants are having a resurgence in popularity and use over the past decade. This is due to a variety of reasons including the widespread use of injectable fillers, new facial implant styles and patient demand for permanent facial volume enhancement methods. With increased use large volume facial implant clinical studies that describe the outcomes is helpful to both surgeons and patient alike.
In the advanced online edition of the March 2015 issue of the Aesthetic Surgery Journal, an article appeared entitled 'Alloplastic Augmentation of the Asian face: A Review of 215  Patients'. This was a retrospective review of Asian patients over a four year period that underwent facial implant augmentation of the forehead, nose, midface and chin. Complications consisting of infection, malposition, extrusion and revision for aesthetic reasons were evaluated. This included 243 implants of which 141 were done in the nose. (58%) In the nose the infection rate was 1.5%, extrusion 1%, malpositions almost 10% and aesthetic revision of 11%. This makes for an overall nasal implant complication rate of 18%. Chin implants (40) had a 2.5% incidence of malposition and 15% rate of aesthetic revisions. Midface (31) and forehead (31) implants were associated with the lowest rates of revisional surgery with just one patient. (3%) Overall infection and extrusion rates were less than 1% each.
Based on their experience with facial implants in Asian patients, the authors conclude that when used properly, facial implants have a low complication rates and satisfying aesthetic outcomes.
There are several of this paper's conclusions of which I would agree. In properly selected patients facial implants can create aesthetic changes that can be very pleasing and relatively easily achieved. No other plastic surgery techniques can create facial augmentation results so directly and immediately. To keep complications rates low, facial implants should be placed in subperiosteal pockets right next to the bone with as much tissue thickness over the implants as possible. Facial implants should be placed as far away from the incision as can be done to avoid implant exposure should wound dehiscence occur.
While one of the main conclusions of this paper is that facial implants have a low complication rate, that is both a true but inaccurate statement. Major medical complication rates are indeed low as shown by a 1% or less occurrence of infection and extrusion. This proves that in the face implants are incredibly well tolerated when properly placed. But the aesthetic revision rate by comparison is high although normal in my experience. The nose and chin implant revision rates, which accounted for two-thirds of their patients, was 10% to 15%.  This may seem high to patients but compares very favorably to many other implants placed in the body. (actually body implant revision rates are usually higher than that of facial implants)
While this was a clinical study of Asian patients, its findings really apply to patients of all races. The only unique implant experience in this study is the high rate of nasal implants which is always highest in this patient population.
Dr. Barry Eppley
Indianapolis, Indiana