Sunday, May 1st, 2016
Chin dimples appear as a central circular depression on the soft tissue chin pad. They are differentiated from chin clefts which are vertical depressions of variable depths in the lower central chin pad going down to the lower level of the chin bone. It is believed that chin dimples occur because of a soft tissue defect in the underlying muscle and fat layer. Since the chin is formed by the midline union of brachial arches in utero, dimples represent some small area of failure to merge.
Chin dimples can be seen as an attractive facial feature (often to those who do not have them) or an undesired facial feature to those who do have them. Fortunately there are surgeries available to either create or reduce/eliminate chin dimples to satisfy either desire.
Over the years I have used numerous methods to remove the unwanted chin dimple. Injectable fillers are the simplest method to reduce an unwanted chin dimple but they are not permanent. The one permanent option would be the use of silicone oil injections (Silikon 1000) although it is not FDA approved for soft tissue augmentation.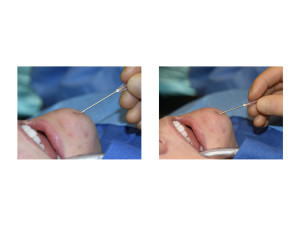 Fat injections for chin dimple reduction are the mainstay of treatment today. They are both natural and have a chance for some permanence. The key in doing them is to do a needle release of all tissues under the chin dimple skin. Using an 18 gauge needle it is inserted centrally beyond its beveled edges. It is then rotated around 360 degrees  allowing the bevel edge of the needle to act like a small scalpel.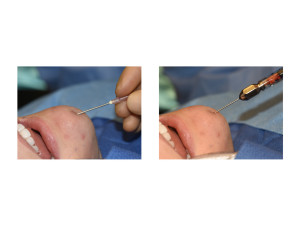 Once the soft tissue release is done, fat is injected using a 2mm blunt cannula. The cannula is inserted perpendicular to the skin entrance and directed down into the muscle. Fat is injected on withdrawal of the cannula slowly, making small .05ml deposits on the way back up to the skin. It is important to 'stack' the fat deposits so a maximum push on the dimple indentation occurs. Usually about .5ml to .9mls of fat are injected for small dimples and up to 2mls for larger ones.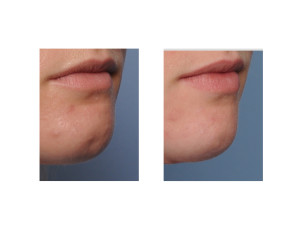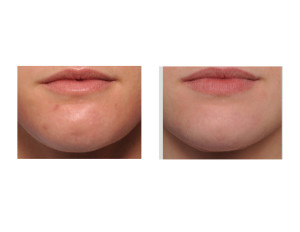 Fat Injections for chin dimples usually accomplish a significant reduction although not a perfectly flat smooth skin surface. It may be necessary to perform a second fat injection treatment for optimal chin dimple correction/elimination.
Dr. Barry Eppley
Indianapolis, Indiana