Thursday, November 12th, 2015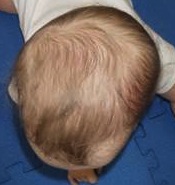 Plagiocephaly is a term used for a broad collection of congenital skull deformities that involve a general twisting or rotation of the skull base. This is most commonly seen as flattening on one side of the back of the head with compensatory changes anteriorly to the forehead and face. When diagnosed early skull molding therapies with helmets can be very effective in lessening the head shape deformity. But if not treated within the first year of life, the success of cranial molding therapy decreases significantly.
Unlike more severe skull deformities like craniosynostosis, plagicephaly is not generally viewed as severe enough in many cases to warrant major intracranial surgery through bone removal and reshaping. Flat areas on the back of the head are viewed as 'cosmetic' with no medical indication for surgical intervention…as viewed from the typical craniofacial surgical perspective. Certainly it is hard if not impossible to justify a major operation with a long scalp scar and need for blood trasnfusions to correct a mild to moderate occipital skull shape problem in a young child.
It is common in my practice to correct a wide variety of skull shape issues in adult with 'aesthetic craniofacial' techniques. This essentially means two fundamental approaches that differ from traditional craniofacial surgery methods…a very limited scalp scar and correction of the deficient skull with onlay bone cement methods. This requires experience in working with a variety of alloplastic cranioplasty materials and doing so with limited incisional access. This has proven to be a very effective approach with good skull contour improvements.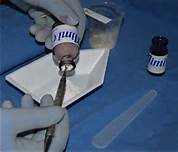 There is no reason that such a limited incisional skull contouring procedure can not be safely and effectively applied to young children with plagiocephaly skull concerns. The key component to this approach is the type of contouring material (bone cement) that is used. A bone cement material like hydroxypatite cement, while synthetic, has a highly osteoconductive surface and allows bone to bond directly to it. (does not develop a scar interface like a truly synthetic material would) While never being resorbed and replaced by actual bone, it is extremely well tolerated and will allow any remaining skull growth to be unimpeded. (At three to four years of age, the skull has undergone over 70% of eventual skull size anyway) Thus the skull contouring effect achieved will be maintained as the child continues to grow.
Having done a small series of hydroxyapatite cement skull augmentations in children (under age 5) for flat spots on the back of the head, it is an effective procedure with a very quick recovery. Most scalp incisions have been less than 5 to 6 cms in length. It is a challenge to work with bone cements through such a small opening but years of experience with the material have helped tremendously.  For the very motivated parent(s), treatment of mild to moderate plagiocephaly can be vey safely done at a young age.
Dr. Barry Eppley
Indianapolis, Indiana