Tuesday, May 24th, 2016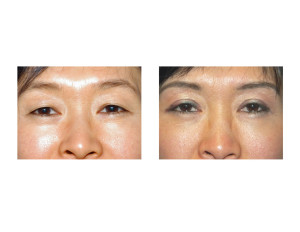 In Asian blepharoplasty, more commonly known as double eyelid surgery, the influence of the fold at the inner eye (epicanthus) can affect the aesthetic outcome. As a result many double eyelid surgeries are combined with a medial epicanthoplasty for an improved aesthetic appearance. While the epicanthus is a small structure, there is a large number of operations described for its correction. There does not appear to be a universally agreed upon method for the epicanthoplasty which suggests that all of them have some downside.
Historically, some surgeons have avoided epicanthoplasty because of the fear of visible scar formation at the inner eye. But the Z-epicanthoplasty has proven to be a safe and effective technique for eliminating the epicanthal fold during double-eyelid operations without problematic scarring at the medial canthal area. They are numerous small variations of the Z-epicanthoplasty most of which focus on  hiding the scar line in the inner cants area.
In the January 2016 issue of the journal Aesthetic Plastic Surgery, an article was published entitled 'A Modified Method Combining Z-Epicanthoplasty and Blepharoplasty to Develop Out-Fold Type Double Eyelids'. In this paper the authors describes his technique for combining double eyelid surgery with a Z-epicanthoplasty in over 1100 women. The goals of the surgery was to create a parallel double eyelid fold with an exposed inner canthus and lacrimal caruncle. The upper eyelid incision is carried out to the new inner canthus location and the skin excised. The muscle fibers that adhere to the inner canthal ligament are severed to release any tension on the epicanthal skin flap. A small z-plasty is then performed on the inner canthal skin flaps. The revision rate was eight patients. (less than 1%)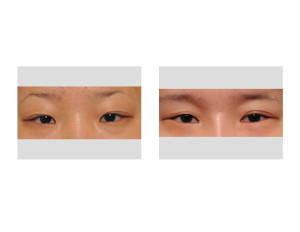 The Asian upper eyelid has a characteristic single fold with an epicanthus and saggy skin. When an epicanthus is not present, a double eyelid surgery alone can suffice. But with an  epicanthal fold present, double eyelid surgery will create a short and narrow double fold appearance. Thus combining double eyelid surgery with an epcanthoplasty is now common practice. This allows for a smooth connection between the double fold eyelid and the inner canthus. The goal of the Z-epicanthoplasty is to relieve the tension on the medial cantonal area which contributes to the epicanthal fold being present and prevent any adverse scarring in this highly visible area.
Dr. Barry Eppley
Indianapolis, Indiana