Friday, November 2nd, 2012
Background: A strong jawline is perceived as a sign of masculinity and is a commonly desired feature of some men. Using implants is the only way to create a well-defined jawline through the triple approach of chin and jaw angle implants. While these implants are available in different materials from various manufacturers, their most important feature is the style and size that they offer. Picking these implant features for any male patient is a lot more art that it is science.
When picking implants for any facial area, it is important to take into account their facial shape and the overlying soft tissue thickness. Thick faces blunt the effects of implants and may simultaneously benefit from some defatting procedures as well. Thinner faces have less overlying soft tissue and the effects of implants can more easily be seen. These facial characteristics are particularly important at the jawline which is essentially a transition point between the face and the neck. Augmenting the front (chin) and the back part (jaw angles) of the U-shaped jawline can change its appearance dramatically.
The thin face and jawline has the benefit of being more easily skeletonized by implants. But implant size must be tempered lest their effects become too pronounced or big. The lower face must not overpower the upper face by being too wide or extending beyond the upper zygomatic width. It must also not become too square in appearance and still maintain some element of being thin and somewhat narrow, just with a more defined jawline.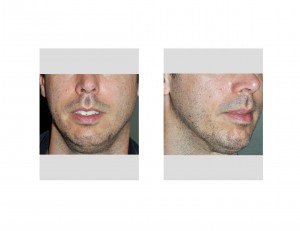 Case Study: This 45 year-old male felt that his entire jawline was weak. He had a chin implant placed four years ago and, while it provided some benefit, it was still not satisfactory. As part of the discussion about how to improve his chin, his highly angled jaw angle area was pointed out and it was agreed that jaw angle implants would be beneficial as well. He remembered that his prior chin implant was of mersilene mesh composition and that it was 'large' according to his original surgeon.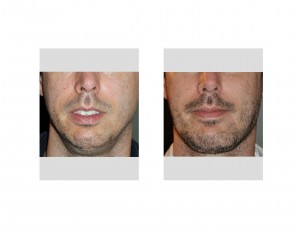 A square silicone chin was chosen to replace his existing chin implant. At least 9mms of additional horizontal augmentation was needed with a more square frontal shape. Silicone jaw angle implants that dropped the angle border down was also chosen but with a width that was not more than 7mms, keeping in line with the rest of the width of his face. The implants would have some overlap across the body of the mandible but with no augmentation effect in this area, which is common.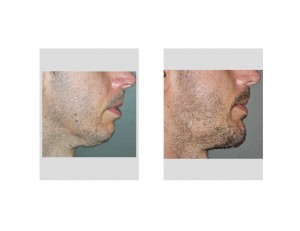 During surgery, the chin was approached through his existing submental scar. The mersilene mesh implant was heavily ingrown with tissue and was near the dermis of the skin. Removing it was felt to leave too little soft tissue between the skin and any new implant. It was elected to leave it in place and place the new square silicone implant between the underside of the mesh implant and the bone. The wings of the square chin implant went well beyond that of the mesh implant and had no problem providing a more square shape effect. The jaw angle implants were placed through an intraoral incision behind the molars. Dissection released muscular attachments off the angle and the inferior border so the jaw angle implants could be placed low enough. They dropped the border 5mms and had 7mms width. A single screw secured them in place to keep them low and to the back of the angle.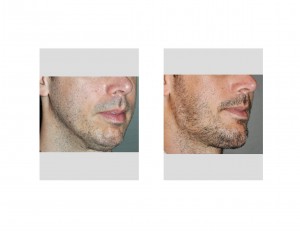 He had some moderate facial swelling, but like in all thin faces, it resolved fairly quickly within three weeks after surgery. He had a much improved jawline with better definition but a jawline width that stayed in line with his upper facial width.
Case Highlights:
1)      Jawline enhancement in men is most commonly performed by a combination of off-the-shelf chin and jaw angle implants.
2)      The style and size of chin and jaw angle implants must be chosen carefully and with an appreciation of the patient's natural anatomy and soft tissue thickness.
3)      In the thin male face, jawline implants should not be too wide or over-sized as small implant can produce dramatic effects.
Dr. Barry Eppley
Indianapolis, Indiana