Thursday, May 19th, 2011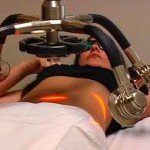 An internet story reports:
'Dr. Oz calls Zerona the miracle procedure that removes fat without surgery. On his Monday May 16th TV show, Zerona laser treatments were featured as one of the ways to get rid of fat in order to slim down and get swimsuit ready for the summer. Given that Zerona does not kill the fat cells and there is no pain, swelling, bruising or downtime, it was an excellent topic to be covered in the show.'
The company marketing statement to this internet story/TV trailer was:
'Zerona is the most researched medical procedure on the market. Our goal is to provide safe and effective health and wellness products to our physician partners. With this goal in mind all of our products are backed by the highest quality of clinical research. The low-level laser technology utilized by Zerona has been researched by Erchonia and published in numerous peer reviewed journals for cosmetic and health benefits.
Zerona is the only device that contours the waist, hips and thighs simultaneously with no side effects, pain, bruising or surgery and you can see the results in weeks not months. Our Zerona physicians have treated in excess of 40,000 patients, with an average reduction of 4.1 inches in just two weeks.'
While this all sounds wonderful, what is the results and experience from an unbiased source? My Ology spa facilities have had two Zerona machines in two separate locations for over six months. We have treated in excess of 50 patients who have completed Zerona series of either 6, 9 or 12 treatment sessions. The vast majority of been on the typical protocol of water intake and the Curva (niacin) supplement during their treatment period. More recently, we have placed some patients on HCG (human chorionic gonadotropin) sublingual drops instead of the Curva supplements.
Admittedly, I was very skeptical from the beginning of how such a non-surgical treatment would work. How is it possible that low energy laser light could cause fat cells to shed some of their contents? By then again, I don't profess to know how I can be on an elevator and be watching a video on my iPhone either. Both concepts seem to defy my understanding of energy transmission.
Our patients results parallel fairly closely that which the manufacturer reports. In short, we have found about a 70% positive response rate with an average circumferential loss of just over 6 inches. This response rate means that 7 out of 10 patients treated saw significant results and were happy they had the treatment. About 20% saw some improvement which was not as much as they had hoped, averaging about 2.5 inch circumferential loss, but they were unhappy that they did the treatment. This left about 10% of the patients who saw no improvement at all including one who actually gained circumferential inches. All 'failed' patients did go on to have either liposuction and/or tummy tuck surgery.
One important thing to understand about the inches lost is that does not represent a single circumferential body area. Most patients would understandably think that this is how much was lost from the waistline…and that would be really impressive for a non-surgical treatment which takes just a few weeks to complete. However it refers to a collection of circumferential measurements from four different areas combined. The results are still quite good but don't be misled into thinking that is all from one area.
Dr. Barry Eppley
Indianapolis, Indiana