Friday, June 20th, 2014

Real Self is one of the internet's top sites for patient information on cosmetic and plastic surgery procedures. If you are looking to have any face or body cosmetic surgery, Real Self is a great consumer website that is very much a social network for those who want have a procedure done or are looking to connect with those that already have. This website concept was created in 2006 by Tom Leary, who also helped create Expedia for travelers. It is an online community for learning and sharing information and experiences about cosmetic surgery. It is sort of a Facebook for cosmetic surgery but with input by professionals who have a lot of experience with the topics. Many people write in questions for the doctors who participate in Real Self to answer and one can receive just a few answers or up to a dozen from doctors across the country. Patients and doctors post before and after pictures and some patients share their cosmetic surgery experiences.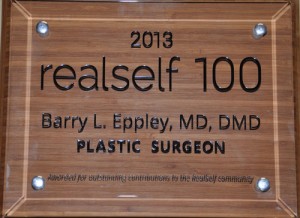 For 2013, Indianapolis plastic surgeon Dr. Barry Eppley was selected as one of Real Self's top 100 doctors.As a Real Self 100 honoree, Dr. Eppley was recognized as a leading social media influencer in cosmetic surgery. This award is a testimony to his commitment and contributions throughout the 2013 year on the Real Self website. Contributions used to determine Real Self's 100 include posted answers and photos as well as feedback shared by patients through reviews and stories. The recipient of this award were amongst the top 2% of the 6,000 doctors who are part of the Real Self doctor community.
In 2013, the 100 doctors on the list collectively impacted tens of millions of patients, with nearly 20% of our total site views centered on helpful answers and information posted by a relatively small group of doctors.