Monday, May 9th, 2016
Rhinoplasty surgery can create changes in many aspects of the nasal anatomy. Most of those changes are typically focused on the bone and cartilage that makes up all of the internal and underlying support of the shape of the nose. The one exception to 'framework' modification is that of changing the shape of the nostrils.
Nostril shape change or alarplasty is most commonly done to alter the width of the nose. Known as nostril narrowing, the width of the nostrils can be narrowed by two basic techniques. It can be done by either removing skin from the nasal sill inside the nostrils or carrying the nostril skin excision around the sides of the nostrils for a more dramatic nostril shape change. The latter is usually done as part of many ethnic rhinoplasties.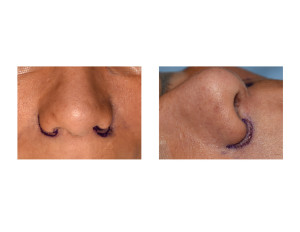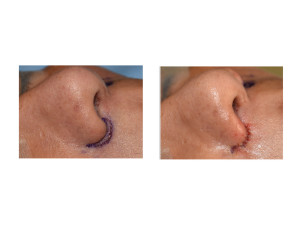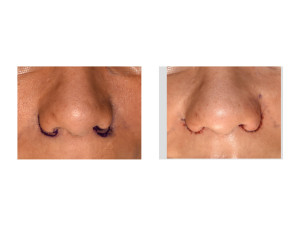 But the position of the base of the nostrils can be changed in another dimension as well. They can also be lowered to a more inferior position as well. This is done by removing a crescent of skin which brings the nasal base lower when closed. Usually up to 4 to 5mms of lowering can be achieved.
Alar base lowering can be done for a variety of reasons. These can include too high an alar position after deprojection of the nasal tip, alar retraction due to scarring or contracture from prior nasal base or upper lip procedures, congenital deformities such as cleft lip and palate and combined with alar width reduction to affect a 3D alar base change.
Dr. Barry Eppley
Indianapolis, Indiana