Tuesday, November 24th, 2015
Background: While the effects of breast implants can last a lifetime, the implants themselves may need to be replaced due to mechanical failure. This is a well known reality of breast implants and the younger of age one has them placed the near 100% probability they will need to be replaced over one's lifetime.
But other reasons breast implants may be replaced can be either a physical or psychological one. The breast tissue around an implant may decrease with aging or the overlying skin can become more stretched and a sag develop. A women may also perceive a different breast size 'need' at a different time or place in life as her body or social circumstances have changed.
Case Study: This 42 year Asian female who weight 130 lbs wanted larger breasts using 375cc silicone gel breast implants. While she had a little bit of breast sagging, it was not enough to warrant any form of a breast lift. Through an inframammary incisions, the silicone breast implants were placed in a partial submuscular plane. (dual plane positioning)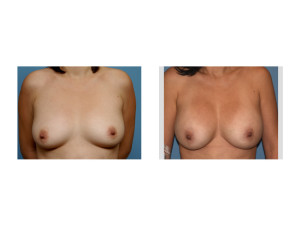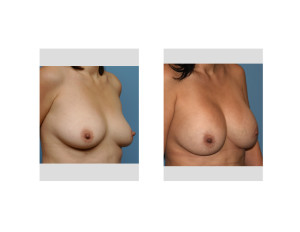 She was not seen again after her six week checkup appointment until ten years later. While her breast tissues had relaxed a little over the years, there was not substantial change in their shape that could be perceived. In essence, her breast augmentation result appeared to be very stable with no change in implant position or loss of breast parenchyma. (breast tissue)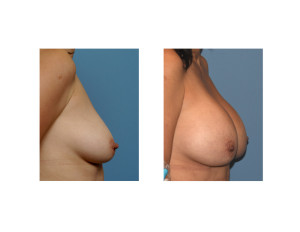 What brought her back ten years later is that she had lost ten lbs and now felt her breast implants were too big. She now desired smaller implants and breasts that were positioned higher up on her chest. This os going to require a concomitant vertical breast lift with her new smaller breast implants.
While breast implants do not change themselves, the body and the mind's perception of them can. Pregnancy and weight loss, for example, can result in loss of overall breast size  and also result in tissue sag off the implants. Also as women age their perception of breast size may change and there may be a perceived need to go bigger or smaller depending on a variety of personal factors.
Highlights:
The long-term effects of silicone breast implants is well studied as plastic surgeons have seen many such patients often as long as three or four decades after implantation surgery.
While breast implants themselves are usually dimensionally stable, it is the breast tissue around them that can change based on a variety of individual patient issues.
Besides the breast tissue changing on top of implants, patients may also change their  attitudes and objectives with them.
Dr. Barry Eppley
Indianapolis, Indiana