Sunday, March 20th, 2016
In skull implant surgery, the limiting factor in terms of the amount of augmentation obtained is the stretch of the scalp. With the use of 3D CT scans and computer designing, any size and shape of skull implant can be made. But just because it can be made does not mean that it can be safely inserted or avoid long-term complications. The key is adequate scalp tissue to accommodate the size of the implant and not over stretch the scalp tissue over time.
The exact size and dimensions of a skull implant that the scalp tissues can tolerate will vary amongst different patients. There is no absolute thickness number in millimeters that is the maximum for any patient. But I use a general rule that any skull implant thicker than about 10 to 12mms may make the scalp closure tight or raise concerns about tissue thinning long term.
For those patients that would like larger amounts of skull augmentation, the concept of increasing the amount of scalp tissue to accommodate the implant must be done. This is achieved through the historic and well known use a scalp tissue expander. But unlike how scalp tissue expanders are used for more typical cases of scalp reconstruction, there are some differences when used as a first stage preparation for larger skull implants.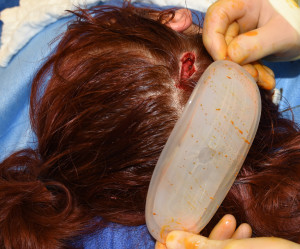 The amount of scalp expansion for skull implants is more limited and only needs to be enough to look just slightly beyond the amount of skull height that the patient aesthetically wants. This is usually no more than 125cc to 150cc for most patients. I prefer a long rectangular shaped tissue expander as it can be inserted through a small scalp incision.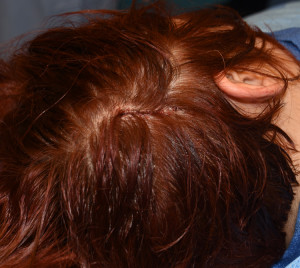 The scalp incision to insert the tissue expander show lie along the future location of the longer incision needed for the second stage skull implant insertion. This is placed on the side of the head in the posterior temporal area and no hair is removed in making and closing the incision. The incision length needs to be no greater than 4 to 5 cms. This keeps the incision way from the location of the overlying scalp expansion.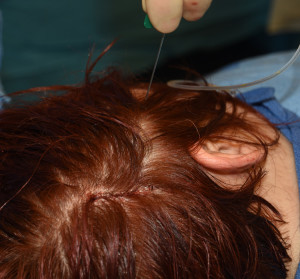 Patients will do their own at home scalp tissue expander inflations. The port of the expander is placed on the deep temporalis fascia just above the ear. This location makes it easy for the patient to locate it and see it to insert the needle for the saline inflations.
Usually the needed scalp tissue expander inflations are completed in four to six weeks after the expander placement. Because the amount of scalp expansion is not great, its detection is very minimal in women who wear their hair long.
Dr. Barry Eppley
Indianapolis, Indiana