Chin implants are the most common permanent method of facial augmentation. Chin implants of various materials have been used for almost fifty years. Whatever the material composition of the implant is and its shape and size, chin implants can be introduced from either a superior approach (intraoral mucosal incision) or from below. (submental skin incision) There are advantages and disadvantages of either incisonal approach as well as surgeon advocates for either chin implant introduction technique.
The submental incision for chin implants offers the most direct access to the bottom of the chin bone where the implant should be properly placed. It also provides a pocket which eliminates the risk of any upward migration of the implant provided the pocket is not made too high. Firm fixation of the implant can also be done to the bottom edge of the bone to ensure its midline positioning. Because of a sterile skin prep, it also has a very low risk of infection. From a recovery and potential complication standpoint it also does not disrupt the superior attachment of the mentalis muscle. Its only real downside is that it does create a scar under the chin which can be objectionable to some patients.
The intraoral approach offers a scarless method for chin implant augmentation as its main advantage. Because of going through the mouth (although this is not exactly true because the lower lip is pulled out and away from the oral cavity) and detachment of the superior mentalis muscle, many surgeons feel that it is associated with a higher rate of complications. Superior malposition of the chin implant is actually the most common problem with the intraoral approach.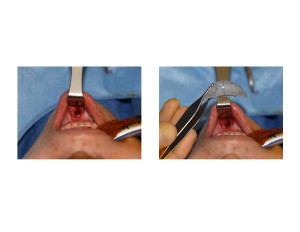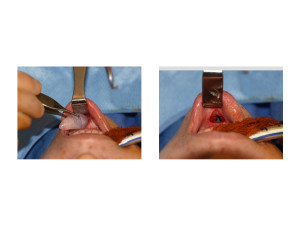 Several modifications of the intraoral approach can avoid most of the potential chin implant problems. First the intraoral incision should be vertical in orientation, paralleling the fibers of the mentalis muscle. This splits the mentalis muscle but does not separate the mentalis muscle attachments. With the lip pulled away from the teeth, it provides the angle to develop the subperiosteal pocket along the inferior edge of the anterior mandible.  Secondly, implant sizers are used to ensure that the pocket has been properly developed prior to inserting the formal chin implant. Lastly, the implant is inserted, positioned and then secured in its midline position with a single 1.5mm microscrew to prevent superior implant migration.
The intraoral approach for chin implants is sometimes preferred by patients with more pigment in their skin, females and any patient that wants to avoid an external skin scar. The incisional technique should be different than that needed for a sliding genioplasty and other chin surgeries with a more limited and less dissected approach By so doing all of the potential disadvantages of the intraoral chin implant approach can be avoided.
Dr. Barry Eppley
Indianapolis, Indiana
Tags: chin implant, dr barry eppley, indianapolis, technical strategies