The buccal fat pad is most commonly known because of the aesthetic buccal lipectomy procedure. Its historic significance is in what it creates when it is removed…a facial thinning effect. It is the one facial defatting procedure that is easy to do, effective and permanent. It is not a facial liposuction procedure, as is commonly perceived, but rather an excisional procedure where the fat is teased out and directly cut off and removed.
Despite its historic use more recent concepts of facial aging have cast doubt on the validity of the procedure. Losing facial volume by fat atrophy is one of the sequelae of aging and its toll on the face is that of a devoluminizing effect leading to a gaunt and more aged facial look in many people. This has let to contemporary efforts to maintain or even add fat volume to the face as a restorative procedure. This has led to many plastic surgeons spurning the buccal lipectomy as a procedure that should be avoided and abandoned.
The reality is that the buccal lipectomy is neither a completely good or bad aesthetic procedure. It all depends on the patient's facial anatomy, shape and desired effect. Understanding the anatomy of the buccal fat pad will shed light on whether it could be beneficial to any patient's facial reshaping goal.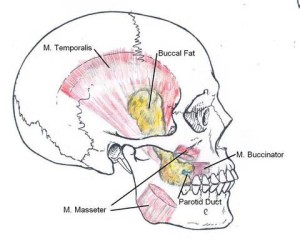 While the merits of the buccal lipectomy can be debated, its anatomy can not. It is a large encapsulated fat pad that has a distinct vascular pedicle that sits right below the cheekbone in the appropriately named buccal space. There is no other such fat collection with this specific anatomy in the face. Besides its size and exact anatomic location it is also not appreciated that it has numerous extensions (fingers) that extend outward and beyond its 'home' submalar located buccal space. Its biggest extension heads northward where it can be found around the temporalis muscle. Its location here speaks to what is believed to be its role as an interpositional material between the masseter and temporalis muscles. This allows them to have functional movement without interfering with each other or allowing scar adhesions to develop between the two muscles. What is also clear in the anatomy of the buccal fad pad is that it does not extend downward below about the level of the occlusal plane.
This anatomy has several implications as to the merits and potential deleterious effects of the buccal lipectomy procedure. First, its removal results in a very discrete facial thinning location or indentation which sits below below the cheekbone and is about the size of a thumbprint. It does not have a larger facial thinning effect. It will not create any lower cheek thinning effect like down around the side of the mouth as is commonly believed. Secondly, an aggressive removal of the buccal fat pad (which is easy to do) will result in an adverse thinning effect up into the temporal region. This will result in temporal hollows as the remaining fat pad is pulled down and atrophied from the loss of the 'mother ship' so to speak. Lastly loss of the buccal fat pad is permanent and is one of the only facial fat collections that can not be restored by secondary weight gain by fat cell uptake of excess lipids. (although fat injections can be a corrective procedure)
The conclusion based on anatomy is that the buccal lipectomy procedure should be reserved for very specific types of facial shapes and should often be performed in a subtotal or incomplete manner. Only in the fullest and roundest of facial shapes should a more complete buccal lipectomy be done. In less round faces who have a very specific fullness isolated to just below the cheekbone, a subtotal buccal lipectomy can be safely performed. For a more complete facial derounding effect, a buccal lipectomy will need to be combined with other procedures to achieve a maximal facial reshaping effect.
Dr. Barry Eppley
Indianapolis, Indiana
Tags: buccal fat pad, buccal lipectomy, dr barry eppley, indianapolis