One of the elements of an attractive face is known to be proportions. While some may argue that symmetry is the most important part of facial beauty, symmetry and proportions are really linked. One doesn't work well without the other.
Facial proportions can be assessed both horizontally as well as vertically. The classic facial thirds applies to vertical relationships with the upper (hairline to brow), middle (brow to base of nose) and lower (base of nose to bottom of chin) thirds being well known. Facial third disruption can occur at all levels and can make the face appear too long or too short.
One reason for a short vertical face is that the lower third is deficient. This can be associated with a more flat mandibular plane angle. This is reflective of the entire lower border of the jaw being short from back to front. It can also occur when the overall lower jaw is underdeveloped and is associated with a horizontal chin deficiency as well as a high jaw angle.
Lengthening of the vertically deficient lower third of the face can be done one of two ways based on the cause of its shortness. The entire lower jawline can be extended by a custom jawline implant that wraps around the lower jaw from angle to angle. The other method is a vertical lengthening bony genioplasty which elongates the front part of the jaw.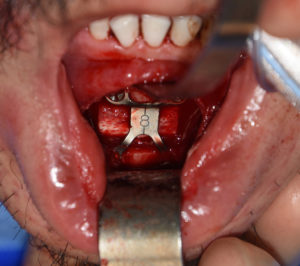 The vertical lengthening genioplasty is similar to the well know sliding genioplasty except that it does not slide. Rather after the bone cut is completed the lower bone segment is opened up like a hinge and a gap is created between the front edges of the bone based on how much lengthening is desired. The size of the gap is maintained by a spanning plate and screws. If the gap is big enough an interpositonal allogeneic bone graft or hydroxyapatite block is placed.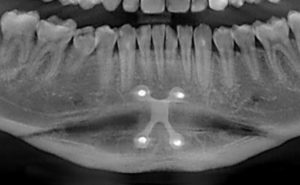 This bone gap in an opening vertical genioplasty will eventually fill in with bone but it will take 6 to 12 months to do so.
Dr. Barry Eppley
Indianapolis, Indiana