Abdominoplasty or tummy tuck surgery is one of the most common and successful of all excisional body contouring procedures. While it is an operation that is not to be underestimated in magnitude, particularly from a recovery standpoint, its effects can be dramatic. When removing a large segment of lower abdominal skin and fat there is no substitute for its dramatic effects.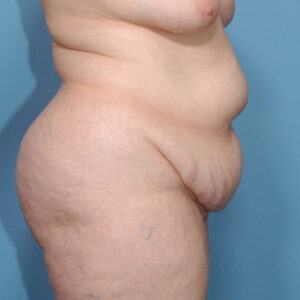 Because of the abdominal tissue removal and plication of the abdominal fascia, strengthening of the abdominal 'core' seems like a natural sequelae of the tummy tuck procedure. While the surgery certainly doesn't strengthen the abdominal muscle it does provide better anterior abdominal support which would intuitively seem to help with back discomfort. The larger the abdominal tissue removed the more likely any relief in preoperative back pain should be.
In the December 2020 issue of the journal Aesthetic Surgery Journal an article was published entitled 'Improvement in Back Pain Following Abdominoplasty: Results of a 10-Year, Single-Surgeon Series'. In this clinical series the authors evaluated that the strengthening effect of the midline abdominal plication from tummy tuck surgery would provide back pain relief and improvement in physical function. In a series of 338 patients over a ten year period, 51 (36%) reported presurgical back pain. All such patients are given the Oswestry Disability Index (ODI) and the RAND 36-Item Short-Form Health Survey. (SF-36) Paired t tests compared overall and strata-specific changes in ODI and SF-36 pre- and postsurgery. Multivariable linear regression models were fitted to model relations between scores and plication, adjusting for presurgery scores and patient variables.
Of the studied patients who had preoperative back pain on the ODI they were fairly evenly split between those that have relatively small vs larger abdominal tissue removals. (aesthetic = 28 vs massive weight loss = 23) There were significant improvements in overall patient cohort in ODI (–15.14), SF-36 physical function (19.92), and pain (17.42) as well as when patients were stratified by plication status. However, outcomes between those with plication and those without were not significantly different.
This study provides definitive clinical proof that removing loose/hanging abdominal tissue with tummy tuck surgery can help with back pain…a suspicion and experience that most plastic surgeons have had. It really is no different in some ways as that of breast reduction surgery. What is most interesting about this study is that the fascial plication did not appear to be the primary reason for the symptomatic improvement. Removal of the excess abdominal tissue alone appears to be enough to make the difference.
Dr. Barry Eppley
Indianapolis, Indiana