Underdevelopment of the calf muscles in congenital clubfoot is a common sequelae no matter how timely or well primary treatment for it is done. Such underdevelopment of the lower leg, particularly in asymmetry or unilateral involvement, can be a source of patient sensitivity and lowered self-esteem.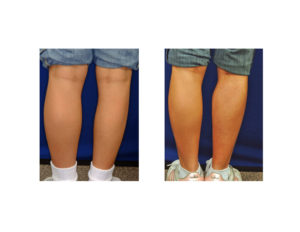 Calf muscle hypoplasia can be treated successfully in both adults and teenagers with either implants or fat grafting. There are indications for either calf augmentation method although implants are more volumetrically stable with predictable long-term results.
In the November 2018 issue of the Aesthetic Surgery Journal, an article was published entitled 'Aesthetic Improvement of Undeveloped Calves After Treatment of Congenital Clubfoot Deformity'. In this paper the authors review their experience in seventy-two (72) patients who were largely female. (75%)) Also all patients had unilateral calf muscle hypoplasia. The types of procedures used consisted of three categories: 1) inner calf augmentation with silicone implants, 2) inner calf augmentation with silicone implants and fat grafting, and 3) inner and outer silicone implants with fat grafting.
Their results show a remarkable paucity of any complications. No infections occurred. Only two minor scar complications occurred. No cases of compartment syndrome were seen.Aesthetic results were very satisfying. The authors rightfully conclude based on their own experience that supplementing calf implants with secondary fat grafting through a staged approach yields excellent results with a negligible complication rate.
In congenital lower leg hypoplasia, calf implants actually augment just one part of the problem. The entire lower leg is globally deficient in areas that a calf implant can not reach. So it is no surprise that supplementing a calf implant with fat grafting areas around and below it would produce an improved aesthetic result. While injectable fat grafting can be done at the time as the placement of the calf implants, it is best to view the operative approach as a staged one requiring at least one fat grafting session secondarily for an enhanced result.
Dr. Barry Eppley
Indianapolis, Indiana