Background: The shape of the lower leg is most commonly defined by the contours along its inner half. The knee, calf muscle and ankle provide a curvilinear shape that has a well known pleasing set of convexities and concavities.This undulating shape is highly influenced by the size of the medial gastrocnemius muscle well as the thickness of the subcutaneous fat layer over it.
Typically there is a concavity in the line of the lower leg between the inner knee and the most prominent bulge of the calf muscle. Without this concavity the lower leg looks thicker and ill-defined. If it is not distinct such a concavity can be created by medial calf muscle augmentation, liposuction between the knee and muscle or a combination of both.
In rare cases this inner leg concavity can actually be too deep. This makes the inner calf muscle look like it is too big even though it is of normal size.
Case Study: This 55 year-old female was embarrassed about the shape of her lower legs and refused to even wear shorts. She felt that her inner leg concavity was too deep and made her legs look too muscular.
Under general anesthesia and in the prone position, modified calf implants were placed through an incision on the back of the knee into this inner leg concavity. A small size calf implant was cut down to a smaller size to fit this area. Through a 3.5cm incision located along a popliteal skin crease, a superficial subfascial pocket was created above the bulge of the inner calf muscle to soften the depth of the concavity.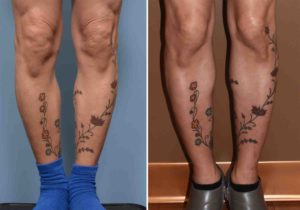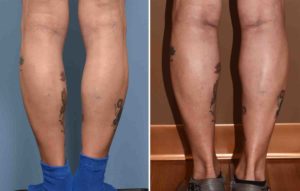 Her six week after surgery check showed a pleasing improvement in the inner half shape of her leg just below the knee. Her results show that calf implants can be used in creative ways to create more than just a larger calf muscle prominence.
Highlights:
1) Calf implants are typically used to augment the body of the inner or outer heads of the gastrocnemius muscles.
2) A deep concavity of the inner leg contour between the knee and the inner calf muscle can be augmented by a modified calf implant.
3) Such a modified calf implant needs to be placed in a subcutaneous pocket above the head of the muscle.
Dr. Barry Eppley
Indianapolis, Indiana