Background:  The finding of stretch marks on the breasts is common and reflects loss of skin elasticity from pregnancy and/or weight gain/loss. They always occur in a radiating pattern around the areola like rays of the sun. Careful inspection of the stretch marks will reveal that they are thinner than the surrounding skin and have less pigment. In many ways, they represent skin that has partially torn and is now a line of scar.
It is rare that breast implants ever cause stretch marks. It can happen, and it is an occurrence I have read about, but no a postperative breast augmentation finding that I have ever seen. Conversely, the other question is whether placing breast implants will make existing stretch marks look worse. Since so many women have them it is an understandable concern of will happen to them afterwards when the breasts become larger.
Case Study: This 32 year-old female came in for breast implants. She had lost most of her breast volume after multiple pregnancies. Despite the involution her nipples had good position above her inframammary folds. But she did have many wide and deep stretch marks radiating outward from her areola in a 360 degree pattern.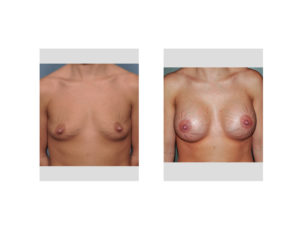 Under general anesthesia and through inframammary incisions , 325cc smooth round silicone breast implants were placed in a dual plane position. Her stretched out breast mound skin had no problem accommodating these modest size breast implants.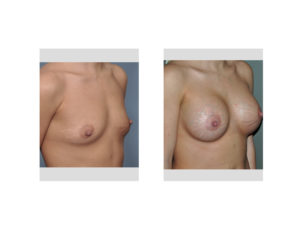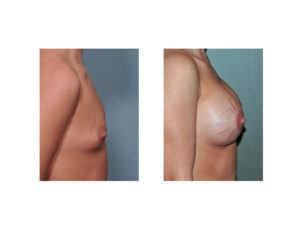 Her breast appearance just a few weeks after surgery shows stretch marks that actually appear worse. Often times the immediate stretch of the tissues from the implants makes the scar hyperemic and the small capillaries in them dilate. This subsides over first couple months as the swelling goes down and the skin relaxes.
Highlights:
1) Having stretch marks on the breasts does not preclude one from having breast implants.
2) Breast augmentation surgery may temporarily make severe stretch marks look worse due to temporary redness.
3) Breast augmentation surgery, on average, does not appear to make stretch marks look better or worse in the long run.
Dr. Barry Eppley
Indianapolis, Indiana