Background: The desire for a more pronounced and visible lower jawline exists in both men and women. The surgical methods to do so are more commonly requested by men particularly when it comes to a substantially larger jawline change. Making a jawline more evident focuses on increasing the size and shape at its 'corners', that of the projecting chin and the back ends at the bilateral angles.
When creating a total jawline augmentation effect, there are two basic approaches.  The historic and still most commonly used method is a three implant approach of independently placed chin and jaw angle implants. In some cases the chin implant may be substituted with a siding genioplasty. The newer method of jawline augmentation is the fabrication and placement of a one-piece custom made jaw implant that wrap around the chin from angle to angle. It is the preferred method of total jawline augmentation given the preoperative designing of the implant and its smooth one-piece construct. But cost considerations may lead some patients to still undergo the classic three implant method.
Chin and jaw angle implants exist in standard styles and sizes. While for some patients these historic standard chin and jaw angle implant styles will effectively work, newer implants styles offer improved total jawline augmentation results for many patients. Newer vertical lengthening jaw angle implants have allowed for increased visible angularity of the back part of the jaw. When vertical elongation of the chin is needed either newer vertical lengthening chin implants can be used or the historic approach of an opening sliding genioplasty. When significant vertical and horizontal chin augmentation is needed, chin implants and a sliding genioplasty can be combined.
Case Study: This 25 year male wanted a total jawline change. Not only was his lower jaw horizontally short but it was vertically deficient as well. This was evident in the short chin and large overbite which are directly related. When he opened his mouth slightly the improvement in his chin and jaw height could be seen confirming the needed vertical dimension of his chin and jawline.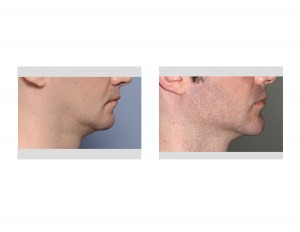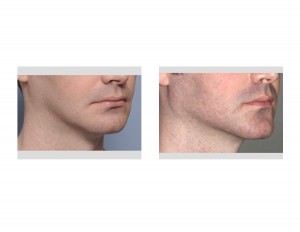 Under general anesthesia, he had an opening sliding genioplasty (7ms done and 7mms forward) with a chin implant overly (5mm horizontal augmentation) done through an intraoral approach. Through posterior intraoral incisions jaw angle implants that added 7mm vertical length and 5mm width were placed.
At one year after surgery the improvement in his jawline could be appreciated. Ideally longer vertical lengthening jaw angle implants would have improved his result and are being considered. The sliding genioplasty and chin implant overlay produced a satisfactory improvement to the front part of his jawline
Total jawline augmentation can be effectively done using a non-custom implant approach. It can require the thoughtful application of newer chin and jaw angle implant styles and the selective use of sliding genioplasty techniques.
Highlights:
Total jawline enhancement consists of front (chin) and back (jaw angle) augmentation.
Preformed chin and jaw angle implants is the historic and standard approach to total jawline enhancement.
3. Vertical chin augmentation in total jawline enhancement can be done by a combined sliding genioplasty with a chin implant overlay.
Dr. Barry Eppley
Indianapolis, Indiana