Background: Flat spots on the back of the head or one-sided occipital flatness is not rare. While the back of the head is typically round, it is prone to numerous indentations and irregularities from in utero and neonatal influences. Since the back of the head is exposed to greater eternal pressures than the rest of the head combined, occipital deformations such as flat spots are not uncommon.
Correction of occipital defects or indentations can be done by a variety of bone augmentation techniques. The key differences are in what material is used and how it us introduced. Having performed many skull augmentations over the years there is no question that the single best method is a custom skull implant placed through a low occipital incision. But there still is a role in the patient for other forms of skull augmentation, particularly in unilateral occipital plagiocephaly. (flatness on one side)
Case Study: This 42 year-old male had always been bothered by a flat area on the back of his head. This had been there since he was a child. His mother said it happened because he laid on that side of his head since he was born and always turned back to it. It bothered him to the point that he would always wear a hat to hide it.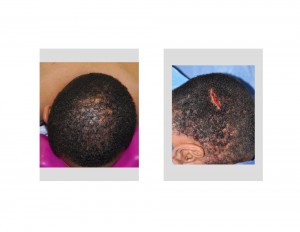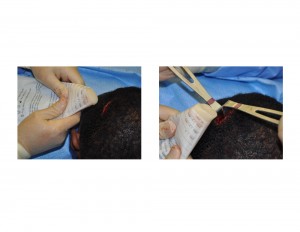 Under general anesthesia in the prone position, a 4 cm horizontal incision was made near the area of occipital flatness. Wide subperiosteal dissection was done to develop a pocket into and around the area of skull flatness. Using a funnel insertion device, 60 grams of PMMA was introduced through the incision into the subperiosteal pocket. The incision was temporarily stapled closed and the material in its putty form was shaped externally until it set into a hardened state.  The incision was then unstapled and all edges checked for smoothness. Then the incision was closed with dissolveable sutures.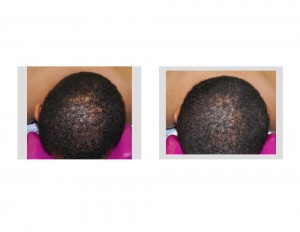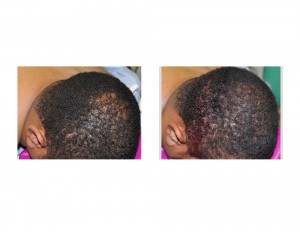 His results showed a much improved shape of the back of the head that was more symmetric. There is no truly injectable cranioplasty or skull augmentation method in the truest sense of the injectable concept. (through a small needle with no incision) But PMMA cranioplasty material can be 'injected' (introduced) through a small incision and shaped by external manual molding. The funnel device is exactly that used for the insertion of implants in breast augmentation. Identical to a confectioner's funnel for icing, PMMA bone cement can be used to aid into scalp pockets developed by subperiosteal instrument manipulation.
Highlights:
1) Smaller back of the head corrections for flat spots can be done by a near injectable bone cement technique. (injectable occipital cranioplasty)
2) This type of injectable cranioplasty requires a small incision and the bone cement is inserted through a funnel apparatus. This should not be confuse with a purely injection technique like that used for facial soft tissue fillers.
3) An injectable occipital cranioplasty requires shaping of the material as it sets from the outside through scalp molding.
Dr. Barry Eppley
Indianapolis, Indiana