Background: Aging is an inevitable consequence of living and its most recognizable effects are on the face. The first place affected on the face by aging is around and on the eyes. The near constant motion of the eyelids and its thin overlying skin are a set up for wrinkles, loose skin and bags and puffiness caused by extruding fat from under the eye. Given that the eyes more than any other facial feature reveal one's 'character' and are a reported 'mirror of the soul',  aging changes of them reflect what most would not want others to see.
Beginning in the late 30s and early 40s, the signs of periorbital (around the eye) aging begins. Botox and other neuromuscular modulator injections do a good job of slowing down this process by decreasing the formation of crow's feet, but it can not prevent the development of loose skin on the eyelids and the herniation of fat on the lower eyelids. These aging eye effects can be quite variable with some people more genetically prone to developing them sooner and more extensively than others. But inevitably everyone will have more of these eye aging signs than they want.
Eyelid (blepharoplasty) surgery is well known and has been around for almost a century in various forms and techniques. Most patient's biggest fear about blepharoplasty surgery is that they will look like a different person or will look unusual or very obvious that they have had plastic surgery. They can even point to numerous celebrity examples who show exactly what they fear. How is such a result avoided? Will everyone look like they have had surgery? After all, the eyes are seen by everyone and won't all changes be seen?
Case Study: This 58 year-old female was tired of her tired looking eyes. She wanted to look less fatigued but was afraid that she might look 'surgical'. She had a large amount of upper eyelid skin with significant hooding. (skin laying on or near the eyelashes) Her lower eyelids show multiple redundant skin rolls and bags. Here eyebrows were not especially ptotic or has any significant sagging.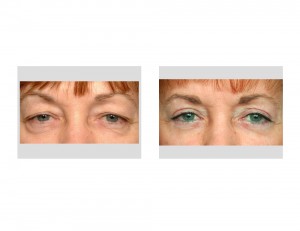 Under general anesthesia, upper blepharoplasties was performed removing 12mms of skin centrally and sparing the underlying orbicularis muscle. Medial fat pockets were also removed.  Lower blepharoplasties were done using a skin-muscle flap technique. A three pocket fat removal, 5mms of tapered skin removal at the lateral canthus and a lateral orbicularis muscle suspension was done.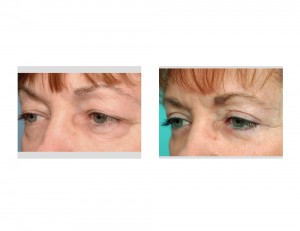 Her recovery took about ten days to look 'non-surgical' and three weeks to fairly normal. Many blepharoplasties will look a little tight for a period of time but by six weeks after surgery this has usually passed. Her results at six months show significant improvement but a result that retained her natural look.
An overdone or unnatural result from periorbital rejuvenation surgery is caused by numerous factors including aggressive tissue removal and an over elevated or exaggerated browlift. It is the browlift that is often at fault for a perceived abnormal eye look after plastic surgery. The effects of aggressive tissue removal, particularly that of fat, are often not seen until much later when the eye may look skeletonized or more hollow. The key to a natural blepharoplasty result is to not try and work out every excess bit of tissue or get rid of all wrinkles. While patients want the best result possible, they also d not want an over operated look either.
Case Highlights:
1) Aging of the eyes is the first facial area affected and is commonly treated by blepharoplasty surgery.
2) Four lid blepharoplasty (upper and lower eyelid surgery) is the most effective method of partially reversing the effects of aging on the eyes.
3) Natural blepharoplasty results occur when the amount of skin and fat removal is not overdone and lid function is not affected.
Dr. Barry Eppley
Indianapolis, Indiana