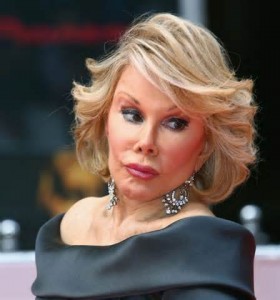 Joan Rivers, comedian and and, in many ways, a champion of plastic surgery, died last week…ironically, having a minor surgical procedure. (however, not a plastic surgery procedure). She is the second such famous female comedian (Phyllis Diller in 2012) that has been tied to plastic surgery that has died in the past few years; both of them pioneering female comedians and both more than willing to make endless jabs at their own adventures in surgical self-improvement.
No one knows exactly how many plastic surgery procedures Joan Rivers had. Most likely her jokes about them far exceeded what she had done. (minus Botox Cosmetic which does not count as actual surgery). Some of her most well known quotes on plastic surgery include:
'I've had so much plastic surgery, when I die they will donate my body to Tupperware.'
'I wish I had a twin, so I could know what I'd look like without plastic surgery.'
'I have flabby thighs, but fortunately my stomach covers them.'
'I'm never without a bandage.'
'I've had so much Botox Betty White's bowels move more than my face.'
'I saw what's going on under my chin. I don't want to be the one the president has to pardon on Thanksgiving.'
'The only way I can get a man to touch me at this age is plastic surgery.'
'Every weekend I just go in and I do something….You get a tenth one free. It's like coffee so you just keep going'
'I was so ugly that they sent my picture to Ripley's Believe It or Not and he sent it back and said 'I don't believe it'.'
'Better a new face coming out of an old car than an old face coming out of a new car'.
What Joan Rivers (and Phyllis Diller) are most famous for about their plastic surgery is not their quotes but how they were perceived as classic examples of everything that is 'wrong' about having plastic surgery. She was commonly referred to as what patients would say they did not want to look like…over done and unnatural. But such criticism is a bit harsh since at age 81 she looked awfully good and much better than what the natural aging process had to offer.
Dr. Barry Eppley
Indianapolis, Indiana