Background: Lip augmentation is the historic location for injectable fillers since the early 1980s and remains as one of the top injectable filler sites even today. There are a wide variety of injectable fillers and manufacturers but the use of hyaluronic-acid (HA) based fillers is primarily used in the lips as they have the lowest risk of potential complications.  HA injectable fillers flow in the smoothest and the easiest and this makes them ideal for lip augmentation.
While injectable fillers for lip augmentation is highly effective and safe, it is not permanent. (I am excluding the use of silicone oil from this discussion since it is not FDA-approved for this use) This lack of permanency poses a long-term issue in terms of cost. Few women are going to spend $500 to $1,000 per year over their lifetime to maintain a lip augmentation result. It simply is too costly to do so for most women.
The concept of lip implants has been around for a long time and numerous types of lip implants have been tried. While effective in increasing the size of the lips they have posed numerous problems including hardness, irregularities, scar tissue, lip numbness, extrusion and difficulty with removal. This has given lip implants an historic poor reputation.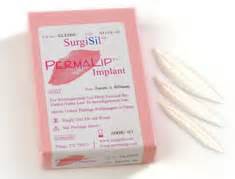 While no permanent lip implant can be perfect as the lip is a very soft and distensible structure, the problem with past implants is that the materials used were too firm. No matter how it is engineered and designed, polytetrafluroethylene (Gore-tex) is too firm for the lips. A newer lip implant, Permalip, offers an improved material that is of a very soft flexible solid silicone material. Just by feel it seems more like a soft lip structure.
Case Study: This 42 year old female had various HA injectable filler materials placed into her lips for the past six years. While she liked her lip augmentation results, the cost of repeated treatments was becoming prohibitive. She sought a permanent lip augmentation result with implants.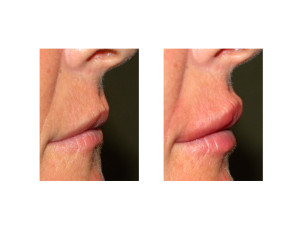 Under local anesthesia in the office using infraorbital and mental nerve blocks with direct infiltration into the lips, Permalip implants were placed. A 4mm implant was placed in the  upper lip and a 3mm implant placed in the lower lip through small incisions placed just inside the corner of the mouth.
Permalip implants offer the only permanent method of lip augmentation. Of all lip implants ever manufactured, their soft silicone composition is the best material and design offered to date. They are easy to place and, just as importantly, easy to remove should that be necessary. Because they have a smooth surface it is very important that the chosen length of the implant is at least as long as a measurement taken across the lip from one mouth corner to the other. If the implant is short of this distance it will become displaced with asymmetry of the implant between the two lip halfs.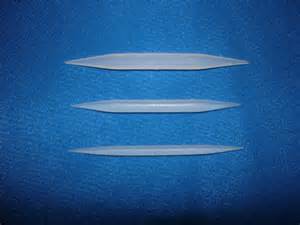 Currently the largest Permalip implant is 5mms in size. This produces a very noticeable lip augmentation change but will not create dramatically large lips. The use of larger lip implants, even if they were available, would not be advised. When the ratio of the implant size to that of the natural lip exceeds more than 50% the rate of complications is bound to exponentially increase.
While lip implants offer a permanent method of lip augmentation, it is important that patients realize that they have the potential for complications like implants placed anywhere else in the body. The most common complications are palpability and implant asymmetry being at different tissue levels between the two lip halfs.
Highlights:
1) The only permanent FDA-approved method for lip augmentation are silicone implants. (Permalip)
2) Permalip implant are generally used in qualified patients who have tried other injectable methods and now seek a permanent lip augmentation solution.
3) It is important to remember that Permalip implants are implants that are placed in a flexible and sensitive body part with exposes them to certain risks.
Dr. Barry Eppley
Indianapolis, Indiana